Empower Network – 12,594 New Sign Up's in March 2013
April 13, 2013
By Team Business For Home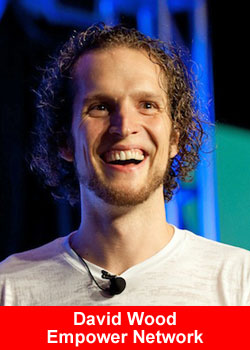 Empower Network CEO David Wood reports 12,594 new sign up for March 2013 and close to 40,000 new customers and affiliates for the period December 2012 up to March 2013.
The Empower Network convention in Chicago on 19 – 21 April is expected to draw 6,000 affiliates from all over the world.
In the fist 10 days of April 2013, more then 6,300 customer and affiliates started blogging on the Empower Network platform.
David Sharpe – Co-founder and COO says:
Empower Network is more than just a blog website. We've actually turned into one of the largest blogging communities and publishing platforms on the internet, with close to a million visitors coming to our website and reading and engaging in our content each day. We have people using our blogging platform to publish all kinds of content.
We have people blogging about other businesses, hobbies, religion, and even really inspirational stuff like their personal stories and experiences. It's really been cool to see how members have used the community and training to get inspired, and then the blogging platform to express that inspiration with others.
We also offer some of the most high-level marketing training courses from some of the most successful marketers in the world. And all of our training is digitally delivered online so customers can access training courses immediately once they buy. And of course, we have a unique and profitable 100% commissions affiliate program that gives newbies a chance to profit quickly, and leaders a chance to earn what their really worth!
Empower Network Top Earners est. income:
[private_platinum]
Empower Network Disclaimer:
The amount of time it takes to achieve the stated income varies by participant. The estimates provided above were the result of an informal sampling of Empower Network participants. Basically, it takes hard work to make substantial income in this business. The income statistics above are for all active affiliates world wide for the date specified above, are based in US dollars, and update daily.
An 'active affiliate' is defined as someone who: 1) Has executed an affiliate application; 2) has an active membership with a minimum of the Empower Network blogging platform; 3)has received at least one direct commission in the last 30 days; 4) has either an approved merchant account, or integrated a payment method in the members area; and 5) has not been terminated, or chosen to discontinue for any reason.
[/private_platinum]