Eric Worre "Go Pro – 7 Steps To Becoming A Network Marketing Professional"
May 1, 2013
By Team Business For Home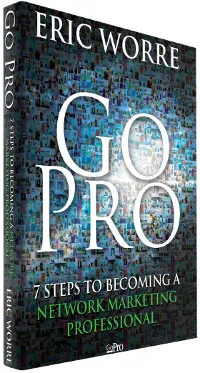 Today is a big day! Our friend Eric Worre has officially released his highly anticipated book Go Pro – 7 Steps To Becoming A Network Marketing Professional and we can all FINALLY get our hands on it.
If you have ANY interest in Network Marketing at all, you simply have to own a copy. Go Pro is an easy read at 160 pages, but inside those pages you will find a gold mine of information you can use to grow a larger and more successful business.
If you're building an organization, make sure everyone on the team has a copy. It's really very simple. part of their culture will outdo the groups that don't. It will be a huge competitive edge for you and your team.
I'd also suggest you have some of these books on hand at all times for two important reasons:
First, it's a GREAT third-party prospecting tool. People want to know what they need to do to be successful in Network Marketing. This book gives them a complete roadmap. If you use Go Pro to follow up with your prospects I can guarantee you'll have better results.
And second, every time you sponsor a new person you're going to want to put this book into their hands on their very first day. Start them off right before they have a chance to develop bad habits.
And by the way, Eric is giving away some cool stuff for leaders who want to buy books to share with their organization. I'd recommend it, your group needs this book anyway.
Eric created a great video that explains it all. Take a minute to check it out by going to https://networkmarketingpro.com/gopro. You can also pick up your books by going to the same link.
This is one of the best Network Marketing books, if not THE best ever written. Let's shock the world and get a pure MLM book to the top of the best-seller lists, support the great work of Eric Worre and use Go Pro to build a more successful business all at the same time.
I've ordered my copies. Do yourself a favor and order yours today. Here's the link again to get your hands on them and the special bonus offers.