MonaVie – Malaysia Covention Attracts 3,000 Distributors
May 14, 2013
By Team Business For Home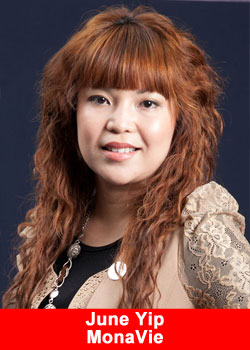 More than 3,000 distributors and guests from all over Malaysia, Singapore, and the surrounding region gathered at the Sunway Convention Centre on April 21, 2013, to celebrate success and share their commitment, passion and dedication to MonaVie at Malaysia's 3rd Anniversary Celebration.
A key part of every MonaVie event is motivation and training delivered by speakers who have proven success. Other highlights include the following…
MONAVIE RVL NUTRITION SHAKE MIX LAUNCHES IN MALAYSIA
MonaVie RVL is a delicious and nutrient-dense weight management product that will provide the people of Malaysia both the opportunity to improve their health and build a viable business by sharing the product with others. By event's end, RVL sales totalled more than one million ringgit in products and merchandise combined!
RECOGNITION
In advancing to Black Diamond, June Yip and Jimmy Gan have seen their yearly commissions hit the one million mark. The new Black Diamond Executives received keys to their very own MonaVie Mercedes-Benz at the event. Two years ago, June and Jimmy were newbies in the direct selling world, now they have become powerful trailblazers that lead by example.
There are now four Black Diamond Executives and above in Malaysia and a few distributors are knocking on the rank's door. MonaVie also recognized Ling Kiu Ping as a new White Diamond Executive and Teo Wee Thiam and Simon Teng as new Purple Diamond Executives.
DISTRIBUTORSHIP OF THE YEAR
Johnny Chia and Samanther Ng were also recognized as MonaVie Malaysia's Distributorship of the Year. They received the coveted award for being paid as Black Diamond or above for the most weeks in 2012.
"Leaders are born at events" is a familiar saying in MonaVie, and this event was no exception. Malaysia's 3rd Anniversary Celebration continues to build on the momentum MonaVie is experiencing throughout the world.
About MonaVie
Since 2005, MonaVie has created premium, all natural products dedicated to promoting health and wellness worldwide. With distribution in more than two dozen markets, MonaVie brings you antioxidant-packed health juices, nutrient-rich weight solutions, and revitalizing energy drinks made from the best and rarest ingredients on Earth.
The products, in conjunction with MonaVie VIEW Antioxidant Scanner, empower people to live healthier, more meaningful lives. That greater meaning is revealed through our heartfelt commitment to doing good in the world and by helping children and families in need through MORE Project. Start living A More Meaningful Life today and discover the true, life-changing power of MonaVie. Learn more at https://www.monavie.com.