Ravi and IlA Jain Join Kyani – India
May 31, 2013
By Team Business For Home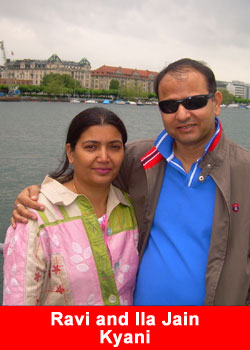 Indian Direct Selling Top Leader Ravi and ILA Jain has joined Kyani for the official launching of india.
Originally from Jaipur Rajastan the couple has achieved the founder Diamond and Diamond leadership positions in two companies over the past 13 years.
During that time, not only did they pioneer new and effective marketing strategies for their business, speak in around the world. and had their training resources they also strengthened and expanded the industry's presence in the Asian market.
After starting network marketing in india, this utterly charismatic leader has brilliantly developed a successful and broad network, as well as a remarkable reputation as a keynote speaker all over India.
Ravi & Ila Jain has achieved one of the most significant growths in the history of network marketing in India with amway not only did they become founders Diamond in amway india after his diamond ship he break more then 5 diamond and 17 emerald's and above on his organization, having built an organization with more than 47,000 distributors at the end of 12 years only.
Ravi Jain, one of the major distributors of the company in india with a turnover of Rs 97 crore, in Amway. He was also fastest growing person in amway. He break's all sales records among the new diamonds of amway in 2004.
After 12 year Ravi & Ila jain joined Monavie another direct marketing company specialized in health. They achieved Diamond position in monavie also just in first go.
His success is the result of a powerful leadership as well as an obvious ability to constantly create and renew simple and duplicable work methods and tools.