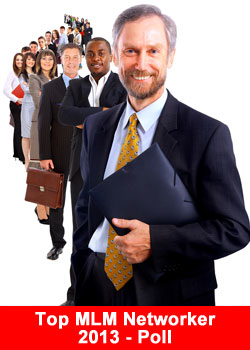 The Top MLM Networker 2013 – Poll!
May 29, 2013
Business For Home is organizing the Top MLM Networker for 2013 – Poll. Awesome MLM – Network Marketing – Direct Selling field leaders with a proven track record.
Please vote for your favorite Top MLM Networker for 2013.
According to many Leadership has been described as "a process of social influence in which one person can enlist the aid and support of others in the accomplishment of a common task.
Other in-depth definitions of leadership have also emerged.
Leadership is organizing a group of people to achieve a common goal. The leader may or may not have any formal authority.
Studies of leadership have produced theories involving traits, situational interaction, function, behavior, power, vision and values, charisma, and intelligence, among others. Somebody whom people follow: somebody who guides or directs others.
The poll is closed.
We love to have your facebook comments.
Nominated are over 170 Top MLM Networkers
The Top 100 after 51,484+ votes (scroll down for the real-time score)
1. Kenny & Thomas Nordlund SiteTalk 20,754 votes
2. Urban Turnsek
SiteTalk 7,451 votes
3. Steve and Gina Merritt
MonaVie 2,815 votes
4. Vjacheslav Ushenin
Talk Fusion 2,756 votes
5. Khaled Obbeya
Qnet 1,899 votes
6. Holton Buggs
Organo Gold 1,771 votes
7. Johnny Wimbrey
World Ventures 1,745 votes
8. Simon Brookes
Shopping Sherlock 1,439 votes
9. Armen Temuryan
Ecosway 1,188 votes
10. Alex Morton
Vemma 1,142 votes
11. Jesse Redd
Vitel Wireless 537 votes
12. Minh and Julie Ho
Talk Fusion 513 votes
13. Vick Strizheus
Empower Network 421 votes
14. Chris & Debbie Atkinson
Ambit Energy 389 votes
15. David Wood & David Sharpe
Empower Network 347 votes
16. Tim Miller
Skinny Body Care 334 votes
17. Nick & Ashley Sarnicola
ViSalus 263 votes
18. Steve & Yvette Mitchell
Talk Fusion 258 votes
19. Jessica Ellerman
The Limu Company 254 votes
20. Calvin Becerra
MonaVie 234 votes
21. Robbie Davis
Zija 226 votes
22. Corey Gold
Youngevity 206 votes
23. Barry Donalson
5Linx 199 votes
24. Nathan Ricks
Nu Skin 199 votes
25. Ata Mamedov
Agel 192 votes
26. Tara Wilson
ViSalus 182 votes
27. Randy Gage
Agel 172 votes
28. Matt Morris
World Ventures 171 votes
29. Robert Hollis
GanoLife 161 votes
30. Collette Larsen & Zak Ross USANA 153 votes
31. Ken Dunn
Ocean Avenue 138 votes
32. Werner Kaiser
Lyoness 136 votes
33. John Haremza
Javita 127 votes
34. Tom and Bethany Alkazin
Vemma 122 votes
35. Mark & Tammy Smith
Nerium International 120 votes
36. Tony and Rhonda Lucero
ViSalus 119 votes
37. Rolf Kipp
FLP 117 votes
38. Shane Morand
Organo Gold 114 votes
39. Silver Fisher
Nerium Int. 87 votes
40. Sathi Senathirajah
Qnet 81 votes
41. Brad Aspin
GBG 70 votes
42. Jordan Adler
Send Out Cards 69 votes
43. Reza Mesgarlou
Global Wealth Trade 65 votes
44. John Sachtouras
Organo Gold 62 votes
45. Brad Hagar
Zrii 59 votes
46. David Moses
Zija 58 votes
47. Viriato Duante
AI Yellow 53 votes
48. Dexter & Birdie Yager
Amway 50 votes
49. George Zalucki & Art
ACN 47 votes
50. Alex Reynoso
Melaleuca 43 votes
51. Bill Drevyanko
AlkaViva 43 votes
52. Christian Steinkeller
Organo Gold 42 votes
53. Tony & Jessica Rush
Empower Network 42 votes
54. Jose Ardon
Organo Gold 39 votes
55. Todd Smith & B. Graham
Youngevity 39 votes
56. Angela Liew & Ryan Ho
Nu Skin 38 votes
57. C. Anthony Harris
5Linx 36 votes
58. Masa Cemazar
bHip Global 36 votes
59. Brig & Lita Hart
MonaVie 35 votes
60. David Imonitie
Organo Gold 35 votes
61. Ruth and Jeff Elliot
Vemma 35 votes
62. Garrett McGrath
Evolv Health 34 votes
63. John Malott
Seacret Direct 29 votes
64. Tim Sales
Ariix 29 votes
65. Rachel & Josh Jackson
ViSalus 27 votes
66. Luis & Angela Ventura
Organo Gold 26 votes
67. Sharon & Steven Sharif
Xango 25 votes
68. Alexander Herr
Qnet 24 votes
69. Arun George
Qnet 24 votes
70. Dean & Angie Mannheimer
Dubli 24 votes
71. Brian McClure
Ambit Energy 23 votes
72. Todd & Angelique Hartog
MonaVie 23 votes
73. SP Bharill
MonaVie 22 votes
74. Jason O'Toole
ViSalus 21 votes
75. Barry Chi & Holy Chen
Amway 20 votes
76. Adam Paul Green
Xocai 19 votes
77. Ray Montie
Ambit Energy 18 votes
78. Simon Abboud
ACN 18 votes
79. Simon Stepsys
Banners Broker 18 votes
80. Steve & Pasha Carter
5Linx 17 votes
81. Gerry Seebacher
Lyoness 16 votes
82. Kenny Rossi
Nikken 16 votes
83. Kyle Pacetti
ViSalus 16 votes
84. Ray Higdon
Numis Network 16 votes
85. Sajeev Nair
MonaVie 14 votes
86. Steve Thompson
Ambit Energy 16 votes
87. Ahuva Simone
Nikken 15 votes
88. Byron Schrag
World Ventures 15 votes
89. Troy Brown
World ventures 15 votes
90. Ed Bestoso
Melaleuca 14 votes
91. Richard B. Brooke
21 Ten 13 votes
92. Brian Carruthers
Legal Shield 11 votes
93. Cameron Corr
Evolv Health 11 votes
94. Dave Savula
Legal Shield 11 votes
95. Jennifer & Darin Dowd
ACN 11 votes
96. Jimmy Smith
Isagenix 11 votes
97. Patrick & Mike Maser
ACN 11 votes
98. Carol & Alan Lorenz
Herbalife 10 votes
99. Mark Comer
Synergy 10 votes
100. Carol & Ken Porter
MonaVie 9 votes