Chris Estes – Zija Top Earner Interview
June 5, 2013
By Team Business For Home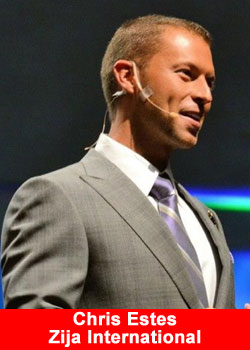 Chris D. Estes is the #1 money earner in the United States inside of Zija International.
A former schoolteacher and coach with no prior network marketing experience, Chris has become a multi-million dollar earner in under 4 years, his organization has 80,000+ members.
Chris uses his story of personal achievement to inspire people to get their dreams back and their hopes up because their best days are just ahead!
Ted Nuyten had the honor to interview Chris.
Chris, how did you get involved in Network Marketing?
I'm from a very small town in Kentucky, two lights, you blink you miss it! I have a background in education, and had been working as a schoolteacher and coach for 8 years when a friend introduced me to the opportunity. I took a look and saw a lot of value in the products and wanted to use them myself, but was even more intrigued by the business opportunity.
I had examined my financial situation and knew that I wanted more than what I currently had, which was a full time job and a part time life. My first child was on the way and I knew that if I didn't change some things I was going to spend my life raising other people's children, but was never going to see my own. I made a decision to get started and in less than two years was able to build a residual income that in some weeks exceeded what I had been making in a year with traditional employment.
I now have time freedom and the ability to make memories with my children that will last a lifetime!
"Get your hopes up! Your best days are just ahead!"
Chris Estes – Triple Diamond Elite
https://www.youtube.com/watch?v=ABuvFS9Zt1U
What is so unique about Zija International?
For starters, our founder, Ken Brailsford is no rookie! He has started and built two other companies, one in the 70's and one in the 80's, which are still in existence today! You see, I didn't want to get involved with a company that was going to be here today and gone tomorrow. For me it was refreshing to know that I was linking up a man who has a proven track record of success; a man who has already won two championships! Zija International is his third, and we all know that the third time is a charm!
Zija International is also the first company to market the most nutrient rich botanical yet discovered. I have never experienced a product as unique as what we offer because of Moringa; over 90 verifiable nutrients, all enzymatically active, and 100% absorbable!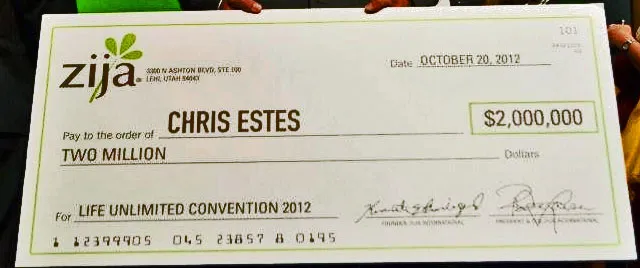 Zija has unbelievable training and support. You don't have to have any business experience, you just have to have a strong desire to want something more and be coachable and teachable. The majority of the top income earners in this company have never been in business prior to joining Zija, and that should be exciting for any of you out there who are looking for a home or home for your people. I am telling you, this can be a vehicle to get you from where you are to where you want to be.
Last, but certainly not least, the timing is perfect! Zija International is in the sweet spot, 12-18 months away from BIG MO; never has there been a better time to get involved! Ray Kroc, founder of McDonald's said, "Be in the right place, at the right time, and do something about it." The place and time is NOW!
"The majority of the top income earners have never been in business prior to joining Zija!"
What is the one thing that has contributed the most to you attaining the level of success that you have thus far?
I heard a saying that your influence, your success, and your income will only grow to the level that you do, and it scared me to death! I knew what I didn't know, and it was a lot! Since the start of my network-marketing career I have been very intentional about my personal development.
Having fun with daughter Maddie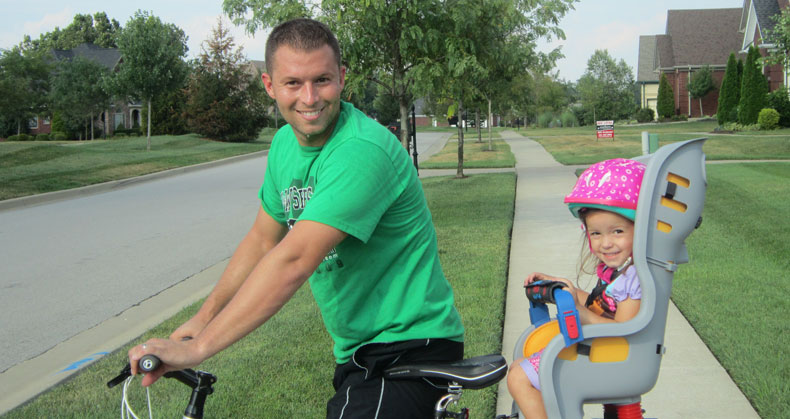 I am constantly striving to lift my lid on my leadership ability so not to cap my organization and to lift my lid on my associations so not to cap my own potential. I make a point to schedule lunch interviews with experts who can continually pour into me and expand my thinking. I am a part of John Maxwell's personal coaching group, The Circle. This is an opportunity for me to connect on a personal level with other high achievers. I am also diligent with setting goals and evaluating my progress. I am intentional about getting up early and blocking off time to start strong each morning.
During this time I review my goals, set my MVP's for the day, and read 10 pages of a good book. Easy to do, easy not to! At the end of everyday I reflect on what was accomplished, who did I add value to, and where can I be better tomorrow. The past four years have taught me that constant refinement is necessary for continual improvement.
"Constant refinement is necessary for continual improvement."
How have you used your personal growth in those areas to grow your organization, a volunteer army that exceeds 80,000 people?
I give it all away as fast as I can! If there is anything that I have learned from the books I've read, the audios I've listened to, and the mentors I have had the honor of learning from, it is that it is better to be a river than reservoir!
Building others into leadership positions is the foundation of my success. I have set my focus in 2013 on serving those who choose to partner with me in this business! I have a system, and it's simple! My plan is to pour my time and resources into "the many", in hopes that they will take what they learn and duplicate it on!
With John. C. Maxwell
My friend and mentor, John C. Maxwell, uses outlets such as personal mentoring, speaking, and book writing as a way for him to pour into the masses. Following suit, I launched a mentoring group of my own at the start of 2013 called The Nest.
The Nest provides qualified participants with an opportunity to connect and collaborate with other highly ambitious and successful business owners and entrepreneurs; they share valuable resources, contacts, success principles, and insights. I am very excited about the progress that is being made on my first book, The A.P.P.L.E Principle, due to release at the end of the year. You can follow me at ChrisDEstes.com, sign up to receive free trainings, and keep up to date on where I will be presenting next!
"It is better to be a river than a reservoir!"
Contact details Chris Estes: