Sarvagya Bharill – Monavie World's Youngest Blue Diamond
June 4, 2013
By Team Business For Home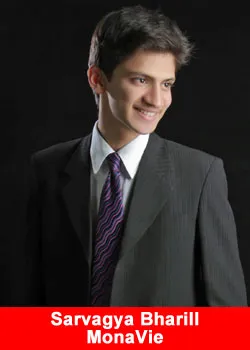 21 year old Sarvagya Bharill is a Blue Diamond in MonaVie India and one of the world's youngest succesful network marketers.
He has completed his graduation from philosophy this year and he feels that never again he will have to do a job or think of taking a admission in a college because he is already on his way to become financially free.
He was only seven years old when his father started network marketing, he grew up in the same environment and this is what is helping him become big in a such a young age.
He is a powerful speaker, animal lover, scholar who's touching many lives across India. He feels that network marketing is the only option for young people if they really want to achieve their dreams!
If the famous cricketer, Sachin Tendulkar can own a ferrari, why can't I? Only option being Network Marketing says, Sarvagya Bharill.
He recalls a interesting incident when he was in 4th grade and saw his father building a network. He too went on to open a local children's club for which he charged a membership fee to play different games at the club. Following his father, he built a network at the age of 9!
Sarvagya Bharill feels that this is the Network Marketing and Health and Wellness era. And one needs to follow this if they want to become a millionaire! He loves to travel and build his network. Its his dream to travel all around the world knowing different cultures and people!
Why Network Marketing Savagya Bharill
https://www.youtube.com/watch?v=B09OkPPrZi4
This being the century of entrepreneur, young people have a chance to start their own home based business with a small investment and no risk! And in 2-5 years time they can went on to become a millionaire. Network Marketing is empowering people all around the world and giving them a chance to create an identity for themselves.
He started to work aggressively from day one when MonaVie launched in India and in 6 months he was a Emerald and after 15 months he is a Blue Diamond.
Sarvagya is committed to build big business along with his parents SP & Sandhya Bharill who are a network marketing tycoon.
Changing Lives one person at a time – Sarvagya Bharill