100 MLM Leaders Who Understand Facebook Marketing
July 28, 2013
By Team Business For Home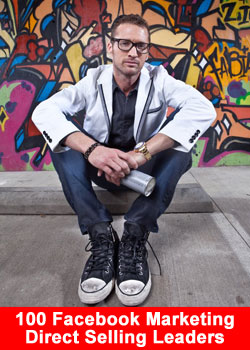 MLM, Network Marketing, social media and Facebook.
Over one billion people like and comment an average of 3.2 billion times every day.
When you have a strong presence on Facebook, your business is part of these conversations and has access to the most powerful kind of word-of-mouth marketing — recommendations between friends.
When you post content and have conversations on your page, you're building loyalty and creating opportunities to generate sales.
Word of mouth is the strongest form of advertising. When someone interacts with your business on Facebook it creates a story 🙂
100 Direct Selling leaders and influencers who understand the importancy of Facebook marketing:
P.s. If a Fanpage has a very low activity level (>1%), it has not been listed 🙂
As of 28 July 2013
| Rank | Nr. | Name | Facebook (Fan) Page | Facebook Likes or followers |
| --- | --- | --- | --- | --- |
| 1 | 1 | JR Ridinger | www.facebook.com/jrridinger | 224,206 |
| 2 | 2 | Loren Ridinger | www.facebook.com/LorenRidinger | 221,177 |
| 3 | 3 | Ryan Blair | www.facebook.com/ryanblair.fans | 207,267 |
| 4 | 4 | Eric Worre | www.facebook.com/NMPRO | 149,793 |
| 5 | 5 | Randy Gage | www.facebook.com/randygage | 105,947 |
| 6 | 6 | Blake Mallen | www.facebook.com/blakemallen.page | 77,204 |
| 7 | 7 | Anik Singal | www.facebook.com/AnikSingalcom | 62,289 |
| 8 | 8 | Vick Strizheus | www.facebook.com/pages/Vick-Strizheus/118053458324771 | 61,250 |
| 9 | 9 | Jonathan Budd | www.facebook.com/jonathanbuddlive | 40,388 |
| 10 | 10 | Alex Morton | www.facebook.com/alex.morton.37 | 33,875 |
| 11 | 11 | Nick Sarnicola | www.facebook.com/NickSarnicola | 31,203 |
| 12 | 12 | Carl Daikeler | www.facebook.com/CarlDaikelerCEO | 30,566 |
| 13 | 13 | Jason O\'Toole | www.facebook.com/pages/Jason-OToole/189771294324 | 29,274 |
| 14 | 14 | Cindy Monroe | www.facebook.com/CindyMMonroe | 27,033 |
| 15 | 15 | Rachel Jackson | www.facebook.com/wealthwithrachel | 25,426 |
| 16 | 16 | Art Jonak | www.facebook.com/ArtJonakFanPage | 24,603 |
| 17 | 17 | Todd Falcone | www.facebook.com/toddfalconefan | 24,441 |
| 18 | 18 | David Wood | www.facebook.com/empowernetwork | 23,155 |
| 19 | 19 | Steve and Gina Merritt | www.facebook.com/SGMerritt | 22,874 |
| 20 | 20 | Ted Nuyten | www.facebook.com/Businessforhome.org | 20,097 |
| 21 | 21 | David Sharpe | www.facebook.com/dsharpe411 | 18,166 |
| 22 | 22 | Matt Morris | www.facebook.com/TheUnemployedMillionaire | 17,359 |
| 23 | 23 | Evan Klassen | www.facebook.com/EvanKlassenVIP | 13,533 |
| 24 | 24 | Tara Wilson | www.facebook.com/TaraWilson912 | 13,082 |
| 25 | 25 | Sajeev Nair | www.facebook.com/iamsajeev | 12,758 |
| 26 | 26 | Tim Sales | www.facebook.com/firstclassmlmtools | 12,613 |
| 27 | 27 | BK Boreyko | www.facebook.com/bkboreyko | 12,056 |
| 28 | 28 | Shelli Gardner | www.facebook.com/shelligardner | 10,978 |
| 29 | 29 | Brad Alkazin | www.facebook.com/bradalkazin | 10,894 |
| 30 | 30 | Alex Reynoso | www.facebook.com/workwithalexreynoso | 10,075 |
| 31 | 31 | Ket-Sang Tai | www.facebook.com/drketsangtai | 10,036 |
| 32 | 32 | George Zalucki | www.facebook.com/georgezalucki | 9,710 |
| 33 | 33 | Holton Buggs | www.facebook.com/HoltonBuggsOfficial | 9,161 |
| 34 | 34 | Tracey Walker | www.facebook.com/coachtraceywalker | 9,126 |
| 35 | 35 | Foo Howe Kean & Shu Chen | www.facebook.com/pages/Foo-Howe-Kean-Shu-Chen/76916157714 | 9,087 |
| 36 | 36 | Mark O Smith | www.facebook.com/markosmith | 9,006 |
| 37 | 37 | Mark Yarnell | www.facebook.com/Yarnellpage | 8,917 |
| 38 | 38 | Khaled Obbeya | www.facebook.com/pages/Khaled-Obbeya-Official/157320911058550 | 8,435 |
| 39 | 39 | Lawrence Tam | www.facebook.com/thelawrencetam | 7,985 |
| 40 | 40 | Kay Napier | www.facebook.com/arbonneCEO | 7,459 |
| 41 | 41 | Orrin Woodward | www.facebook.com/orrin.woodward.life | 7,040 |
| 42 | 42 | Diane Hochman | www.facebook.com/dianehochmantraining | 7,006 |
| 43 | 43 | John Malott | www.facebook.com/malottinc | 6,896 |
| 44 | 44 | Elizabeth Weber | www.facebook.com/elizabethweberma | 6,581 |
| 45 | 45 | Jordan Adler | www.facebook.com/pages/Jordan-Adler/120969387929046 | 6,552 |
| 46 | 46 | Nathan Ricks | www.facebook.com/OTGSystem7 | 6,531 |
| 47 | 47 | Jesse Monsma | www.facebook.com/pages/Jesse-Jones/156772397833504 | 6,434 |
| 48 | 48 | Arun George | www.facebook.com/arunspage | 6,431 |
| 49 | 49 | Ken Dunn | www.facebook.com/kendunnleadership | 6,325 |
| 50 | 50 | Donna Imson | www.facebook.com/donna.imson | 5,964 |
Showing 1 to 50 of 100 entries