Herbalife and AEG Sign Global Strategic Partnership
July 23, 2013
By Team Business For Home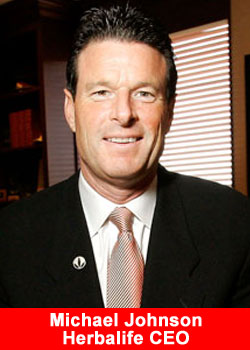 Global nutrition company, Herbalife (NYSE: HLF), and AEG Worldwide, one of the world's leading sports and entertainment companies, have signed a major strategic partnership that will see Herbalife as the official shirt sponsor of Swedish football team, Hammarby Fotboll Club. Herbalife will also become the club's official global nutritional partner.
This six-figure GBP deal, signed for 3.5 years until 2016, extends the reach of the existing AEG relationship with Herbalife in football – the nutrition company being the current shirt sponsor of AEG's Los Angeles-based team, LA Galaxy.
The deal, which was brokered by AEG Global Partnerships from London, will see the Herbalife logo on all authentic and replica shirts – home, away and alternatives – to be officially revealed at the Hammarby v Paris St. Germain friendly match on Tuesday 23rd July. Additionally, this deal will encourage more direct links between the Hammarby and LA Galaxy teams. The promotion of Herbalife products around both team stadiums and on social media will be activated and both teams will share nutritional best practices via team trainers and Herbalife's sports nutrition experts and doctors.
The agreement also includes commitments for Hammarby to train at the StubHub Centre in the USA – home of the LA Galaxy – during the term, as well as for both teams to play one friendly game at the stadium. Additionally, as part of this new relationship, a program to share players between the teams has been established – as has recently been reported within international media, the LA Galaxy has sent three of its young players to Sweden for a training stint with Hammarby, acknowledging that it was possible the players could join the Swedish team on a loan or transfer deal.
This is a timely signing of a global partnership, coinciding with the opening of Hammarby's new stadium – the Tele2 Arena – on 20th July.
Henrik Kindlund, CEO, Hammarby Football, said: We are very pleased to have a sponsor who will aid further investment in our club. Herbalife is a well-known sponsor of several football clubs and we feel confident that we will have a good relationship that will benefit us both. As a team, we are already familiar with Herbalife products and are looking forward to benefitting even more from them!
Paul Samuels, EVP, AEG Global Partnerships and Hammarby Fotboll Club Board Member, said: This partnership with Herbalife is a massive step forward for Hammarby, signed on the eve of the team moving into its new home at the Tele2 Arena. It offers further financial muscle for the Club and importantly, offers greater synergies between both Hammarby and LA Galaxy. We're delighted to have signed this global partnership and the fruits of it will no doubt be quickly evident.
We're proud to be associated with Hammarby FC, said Edi Hienrich, SVP and managing director of Herbalife Europe Ltd. This agreement is part of Herbalife's broader sponsorship program to develop authentic relationships with teams and athletes based on using nutrition to help improve performance, and at the same time, promote healthy and active lifestyles.
Hammarby – nicknamed Bajen by its fans – currently sits in seventh place in the Swedish Superettan, just nine points out of a place in the promotion playoffs for a spot in the Allsvenskan. Hammarby boasts one of the largest fan communities in Sweden. AEG Worldwide has owned a 49% share in the club since 2002 and also manages its stadium. Herbalife has been associated with the LA Galaxy for the last five years and has recently announced a 10-year extension of this partnership valued at over $44 million.
About Herbalife Ltd.
Herbalife Ltd. (NYSE:HLF) is a global nutrition company that sells weight-management, nutrition and personal care products intended to support a healthy lifestyle. Herbalife products are sold in more than 80 countries to and through a network of independent distributors. The company supports the Herbalife Family Foundation and its Casa Herbalife program to help bring good nutrition to children. Herbalife's website contains financial and other information at www.herbalife.com.
About Hammarby Fotboll
Hammarby Sports Club was founded in 1887 and celebrated its golden years in football during the 1970s and 1980s. After a tough period in the 1990s, Hammarby made it back to the Swedish Premier League in 1998, winning its first Champions title in 2001.
Hammarby has fostered many legendary football players, one of them being Lennart Nacka Skoglund (1929-1975), who went on to play for Italian teams Internazionale (Inter), Sampdoria and Palermo. Nacka is an eternal icon for all Hammarby fans.
Hammarby currently plays in the second division of the Swedish football league, but the supporters are definitely in the first league in terms of their sheer number – Hammarby enjoys the largest supporter club of all the Swedish football teams. Hammarby (or Bajen) fans are over 9,000 strong and the majority of people living on Södermalm and south of Stockholm name Hammarby as their favorite team. The main rivals are AIK Solna (outside of Stockholm) and DIF (northern Stockholm), both premier league teams. The rivalry is mainly due to the geographical proximities, but also to style and identity.
Hammarby is, by tradition, regarded as the club of the working class. This derives mainly from the club's historical location on Södermalm, a large island south of downtown Stockholm, originally home to workers and poorer families. Today, Södermalm is a 'hipster' paradise, but the spirit of Hammarby still continues on the island, with the statue of Lennart Nacka Skoglund standing proud at the Hammarby heartlands of SOFO (South of Folkungagatan). Many Swedish celebrities from the music and film industry are supporters, and several records have been made to celebrate the club. Famous Swedish actor Alexander Skarsgård (Generation Kill, True Blood) is a devoted supporter and has voluntarily made commercials for Hammarby from his home town, Los Angeles.
Besides the working class appeal, Hammarby is famous for its large, loyal, vociferous and humorous fans. The former ground to Hammarby, Söderstadion, has been listed as the 11th noisiest stadium in the world (Irish sports-channel Setanta, 2008). With the new ground, Tele2 Arena (inaugurated in 2013), which is double the capacity of Söderstadion, it will no doubt soon be noted that Hammarby has the reputation of having Sweden's loudest fans!
Achievements: Swedish Champions (Winners 2001, Runners Up 1922, 1982, 2003); UEFA Intertoto Cup (Winners 2007); Swedish Second Division (Winners 1989, 1991, 1993, 1997, Runners Up 1996), Swedish Football Cup (Runners Up 1977, 1983, 2010).