The Direct Selling Association Honors Jeunesse's Accomplishments
July 9, 2013
By Team Business For Home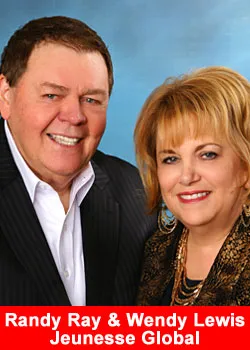 Jeunesse Bestowed DSA's Rising Star Award
The Direct Selling Association honors Jeunesse's accomplishments
This June, Jeunesse Global was announced as the official winner of the Direct Selling Association's ETHOS Rising Star Award.
This prestigious accolade recognizes successful direct selling companies who have dedicated themselves to achieving high standards of excellence in business performance. Sales are up 128% year-to-date. And this past June has been most outstanding month yet, with Jeunesse generating over $21 million in revenue.
This award not only commends business capital: it celebrates spirit, dedication, and altruism. Winners of the DSA's Rising Star Award have given to communities all over the world, and Jeunesse® centers its culture on the principle that nothing is more valuable than human life. Jeunesse Kids™ is the official company sector that works directly with Global Village Champions, a non-profit organization founded by 2012 and 2013 Nobel Peace Prize nominee, Yank Barry.
As a corporate advocate, Jeunesse Kids™ is in good company with giants such as Muhammad Ali, Michael Jordan, and Celine Dion. Jeunesse Kids™ has helped provide two million meals to typhoon victims in the Philippines, and is continuing to serve others worldwide. Global Village Champions is staffed completely by volunteers; donations go directly to people who are hungry and in immediate need.
Scott Lewis, Jeunesse Global's Chief Visionary Officer said this about their achievement: "We humbly accept this distinguished award on behalf of all of our Jeunesse® family from around the world. To be recognized as the Rising Star recipient for 2013 is truly an honor, as we have always been a huge proponent of the DSA and everything it stands for.
We congratulate the other finalists for their accomplishments, as well as all of our committed distributors who continue to passionately share the Jeunesse® products and opportunity.
"We strongly feel this recognition will continue to strengthen Jeunesse's place in the direct selling industry and solidify our position as a global leader."
The latest edition of Direct Selling News' Global 100 Special Report reports that in just one year, Jeunesse® has risen 94% in sales revenue, which places the company third on the list for Top Percent Growth in 2012. Of the ten leading businesses recognized, Jeunesse® is the youngest company after officially launching on September 9, 2009. Jeunesse® has already grossed over $100 million since the beginning of 2013, putting it on path to over $200 million this year. The DSA's selection of Jeunesse® as the winner of the Rising Star Award for 2013, and Direct Selling News' recognition of Jeunesse® as 78th on their Global 100 List, only marks the beginning of this company's many future accomplishments.
About the ETHOS Award
ETHOS Award entries are judged by a panel of industry leaders and outside experts. Finalists for the Rising Star Award must have been an active DSA member for at least one year, have begun direct selling operations less than five years ago, illustrate a commitment to the DSA Code of Ethics, illustrate a consistent and continued pattern of growth, and demonstrate a well-rounded business strategy including projections for growth in sales, salesforce, and tangential activities such as charitable giving.
"Being named as a finalist for the Rising Star Award means a company has proven that it possesses a well-rounded business strategy and has demonstrated a commitment to helping people live better lives through adherence to the DSA Code of Ethics," said DSA President, Joseph Mariano.
A complete list of 2013 ETHOS Award winners and more information on judging criteria can be found at https://www.dsa.org/about/awards/dsa-awards/index.html.
About Jeunesse Global
Jeunesse® is a leading network marketing company devoted to encouraging healthy and youthful living. Their research focuses on adult stem cell technology, telomere support, DNA repair, and nutrigenomics. Products are made in the U.S.A. and are exclusively formulated for Jeunesse®. With a multi-lingual customer service, back office support team, global enrollment system, and in-house programming already in place, the company is fully operational in 20 offices around the world. Its distribution channels extend to over 85 countries. For more information, please visit www.jeunesseglobal.com. Jeunesse® and the Jeunesse® logo are registered trademarks of Jeunesse Global®, LLC in the U.S. and/or other countries.
Follow Jeunesse® on Facebook or Twitter
https://www.facebook.com/TheScienceOfYouthfulAging
https://twitter.com/jeunesseglobal
About the Direct Selling Association
DSA is the national trade association of the leading firms that manufacture and distribute goods and services sold directly to consumers. Among its more than 240 active and pending members are companies selling both via a party-plan method and in the traditional person-to-person style. In 2011, U.S. direct sales were more than $29.8 billion with nearly 16 million direct sellers nationwide. The vast majority are independent business people—micro-entrepreneurs—whose purpose is to sell the product/service of the company they voluntarily choose to represent. Approximately 90 percent of direct sellers operate their business part-time.