Canadian Top Sporter Sarah Wells Joins ViSalus
August 28, 2013
By Team Business For Home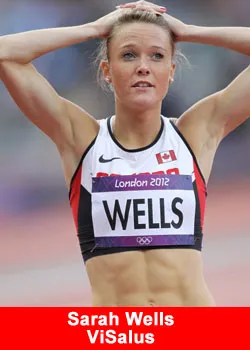 Sarah Wells, 2013 Canadian 400m Olympic Track and Field Hurdler joins the Body by Vi Challenge.
Sarah just got back from the 2013 World Championships, competing on the 4 x 400m relay team in Russia and is now ready to help other people with their health and fitness goals while continuing to take hers to the next level with her fast moving track career.
Over the next 4 years Sarah plans to train for the 2016 Olympics in Rio, Brazil. Stepping-stones along the way will include; the 2013 World Championships in Russia this summer, the 2014 Commonwealth games in Scotland, and finally, Sarah hopes to be on the podium when Toronto hosts the 2015 Pan American Games.
Additional to sport, Sarah is active in promoting youth participation in sport as well as plans to continue her motivational speaking career in hopes of encouraging others to overcome obstacles, reach their dreams and never give up.
ViSalus is a healthy lifestyle company that is dedicated to Taking Weight Off The World™, One Person At A Time, 10 Lbs. At A Time. Founded in 2005, ViSalus develops quality weight-management products and nutritional supplements that it markets and sells direct-to-consumers through an international sales force of independent promoters.
ViSalus markets its products in North America under the ViSalus brand, and in the United Kingdom under the Vi™ brand through the Body By Vi Challenge™, which has helped millions of people lose millions of pounds. ViSalus is headquartered in Los Angeles, California and Troy, Michigan and is majority-owned by Blyth, Inc. (NYSE: BTH).