CVSL To Acquire Agel Enterprises
August 16, 2013
By Team Business For Home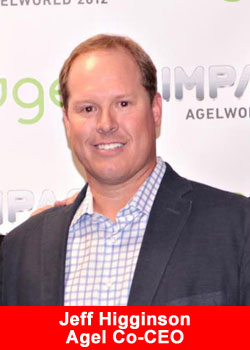 CVSL And Agel Sign Letter Of Intent
ACQUISITION WILL OPEN NUTRITIONAL, SKIN CARE CATEGORIES FOR CVSL
CVSL Inc. (stock symbol: CVSL) and Agel Enterprises LLC announced today that they have signed a letter of intent for CVSL to acquire Agel as part of its growth strategy in the direct selling industry.
Founded in 2005 and based in Utah, Agel offers a line of nutritional gel supplement products in markets around the world, including Europe, North America, Latin America and Asia.
CVSL chairman John Rochon said that acquiring Agel will allow CVSL to enter the $32 billion* nutritional supplement market as well as the $90 billion** skin care market, while establishing a global presence.
Each of the direct selling companies CVSL has or is in the process of acquiring represents an important and distinct category, noted Mr. Rochon. The first companies include home furnishings with The Longaberger Company, gourmet foods with Your Inspiration At Home, and home improvement and home security with Tomboy Tools. Agel will allow us to add not only a fourth company but also two additional major categories.
We especially like the fact that Agel has an established presence in key international markets, with particular strength in Europe and Russia, said Mr. Rochon. Agel is a respected brand with talented leadership and we believe it has a bright future. We intend for CVSL to be global in scope and this is an important step in that direction. We plan to leverage Agel's infrastructure in countries around the world across CVSL's full portfolio of companies.
Agel currently offers a line of skin care products under the brand Ageless. We believe that Ageless is an excellent base on which we can build to significantly expand Agel's skin care line, noted Mr. Rochon.
Mr. Rochon said that CVSL intends for current Agel management to continue in its present roles.
Jeff Higginson, co-CEO of Agel, said that signing a letter of intent to join CVSL is a major step forward for Agel's future.
We are very impressed with John Rochon's strategy for CVSL, said Mr. Higginson. We believe that being part of CVSL will allow Agel to be not only a stronger company, but part of something truly exciting.
Agel sells in more than 40 countries around the world, including the United States, Canada, Australia, Italy, Russia, Ukraine, Japan, Hong Kong, Hungary, Israel, Malaysia, Netherlands, Poland, Mexico, Costa Rica, Chile, Taiwan, Argentina, Singapore, Thailand and the United Kingdom.
Mr. Rochon noted that CVSL board member Julie Rasmussen has extensive experience building direct selling operations in Europe and Russia. Julie's expertise fits perfectly with Agel's largest markets, so she can be of particular value and support there, he said. Ms. Rasmussen was president of Mary Kay Europe and launched Mary Kay's operations in Russia, heading that market for a decade and leading it to become one of the company's largest. In addition to direct selling, she also has launched businesses for Richmont Holdings in Russia and Europe, such as Richmont Transportation, the Hertz franchise in Russia.
About CVSL (www.cvsl.us.com)
CVSL Inc. is an innovative public company pursuing a strategy of gathering together multiple companies in the direct selling, or micro-enterprise, sector. Each company maintains its own separate brand identity, leadership and product line, while achieving efficiencies through sharing of back office resources and best practices.