QNET Expands Into Vietnam
August 28, 2013
By Team Business For Home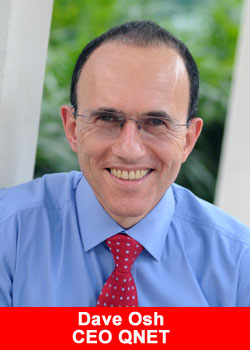 QNET, one of Asia's leading direct selling companies, has penetrated the Vietnamese direct selling sector by opening a new office here recently.
The company, which uses an e-commerce platform, hopes to gain a strong foothold in one of the region's fastest growing markets.
QNET firmly believes the direct selling market in Vietnam — which posted a 12 percent increase in retail sales last year — offers tremendous potential for growth.
According to the World Federation of Direct Selling Associations (WFDSA), global retail sales from direct selling in 2012 grew 5.4 percent, year-on-year, rising to US$166.9 billion. Of this figure, the Asia Pacific region's share was 44 percent. Vietnam ranked 14th in Asia, with total retail sales of US$292 million.
"Looking at these figures, I project a 30-percent increase in the direct selling business worldwide over the next year," said Dave Osh, QNET's Chief Executive Officer. "QNET wants to help Vietnam play a leading role in this dramatic economic growth."
QNET's new office is located in the heart of Ho Chi Minh City's business district, to serve the growing regional market and to meet the increasing demands of its Vietnamese customers. Vietnam is the eighth Asian country where QNET has established corporate offices.
The Ho Chi Minh City office will act as the main support centre for QNET in Vietnam and also help raise the profile of its business in neighboring Cambodia and Laos. It will serve as a customer service centre and provide training for QNET's IRs.
"A huge number of potential customers, along with a familiarity with the direct selling industry, make Vietnam a very attractive market for QNET. And the existence of a well-established legal and regulatory framework for direct selling companies is a big bonus," added Osh.
QNET sells a variety of exclusive lifestyle and wellness products to enhance the lives of its customers around the world. Its range of products includes personal care products, jewellery, holiday packages, weight management products and online educational courses.
"Our goal is to become the number-1 direct selling company in Vietnam. There is nothing more empowering to individuals than the financial freedom that a career in the direct selling industry provides, and we believe Vietnamese people, with their ambition and strong sense of entrepreneurship, will appreciate the products we sell and the business opportunities that QNET provides," Osh said.
QNET Vietnam expects to play a key role with the Amcham Vietnam Direct Selling Committee, which regulates the local industry. The direct selling industry is projected to contribute significantly to Vietnam's national economy in the coming years.
Customers can purchase products from QNET only if they are referred by one of the company's IRs. The distributors earn a commission when their referrals purchase products from the company website. QNET provides a high level of support to its distributors, offering extensive product and sales training, marketing materials, and seminars.
About QNET
As a prominent Asian direct selling company, QNET provides a wide range of life enhancing products that are offered through its propriatary e-commerce platform to customers and distributors in over 100 countries. The company also has some 25 offices and agencies worldwide, and more than 50 stockists, apart from localised operations or franchisees in a number of countries.
QNET is a member of the Direct Selling Association of Malaysia, Singapore, and the Philippines. QNET is also a part of the Hong Kong Health Food Association and the Health Supplements Industry Association of Singapore among others.
QNET is active in sports sponsorships around the world, including Formula 1, football, badminton and more, due to the company's strong belief that the drive, passion and teamwork of sports mirrors that of QNET.
For more information, please visit QNET's website at https://www.qnet.net.