Top Earner John Peterson – Herbalife Committed Suicide
August 17, 2013
By Team Business For Home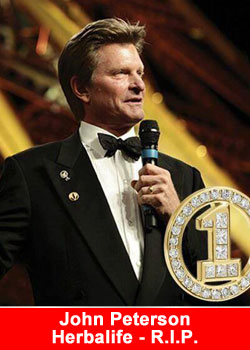 According to the New York Post:
He was living the Herbalife dream.
John Peterson, 58, was a picture-perfect salesman for the nutritional products company, earning millions to fund a lavish lifestyle that included a ranch in Colorado, a beach house in Mexico, exotic vacations and two private aircraft.
The dream was shattered last Sunday when he died from an apparent suicide.
John Peterson was found inside a 2008 Ford pickup parked at his residence in Steamboat Springs, Colo., where he "succumbed to a single gunshot wound," said Ray Birch, undersheriff for Routt County.
Birch said the initial investigation indicated the gunshot was self-inflicted.
A failed Houston real estate agent in the early 1980s, Peterson joined the controversial multi-level marketing company in its early days.
He became one of only a handful of Herbalife's 3.2 million distributors who made it to the very elite "Founder's Circle" of top salespeople.
Last year, Peterson earned an estimated $3 million, according to an independent ranking. He was named Herbalife's top distributor of the year 10 times.
Peterson boasted of owning a Wyoming cattle ranch and homes in Brazil and in a private beach club in Mexico, in addition to his residence in Colorado.