WorldVentures Introduce – Vacation Sooner
August 18, 2013
By Team Business For Home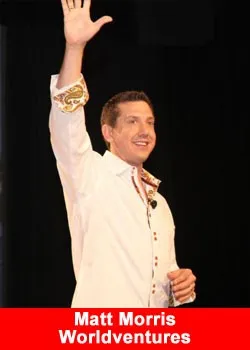 WorldVentures, home of Top Earner Matt Morris introduce Vacation Sooner.
The little blue banner is popping up everywhere on the Internet—even starring in a brand-new video: Vacation Sooner. Last Saturday, Regional Training Event attendees were treated to the premiere, and now, you can watch it online.
The popular Vacation Sooner flier has come to life, giving members yet another tool to help them to introduce the DreamTrips Life Membership and WorldVentures business opportunity.
¿Hablas español? A Spanish (yes, Spanish!) version of the video is coming soon to VacationSooner.com to help members reach the tens of millions of people who speak the second-most-popular language in the U.S.
So, if a member knows someone who needs a vacation or who could accomplish great things with WorldVentures—or maybe even both—they can visit VacationSooner.com to download or stream this video today.
Notes: VacationSooner.com and the Vacation Sooner video are for use in the United States only. WorldVentures is not open for business in Mexico. The video features closed captioning for the hearing impaired.