Big Bazaar Group India Launched Direct Selling Platform
September 10, 2013
By Team Business For Home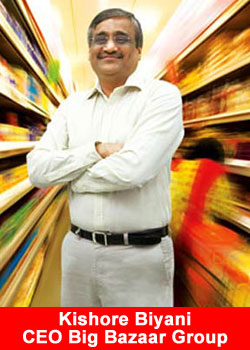 In a bid to boost the group's revenues, Future Group founder Kishore Biyani has come up with a new business model called Big Bazaar Direct, wherein company franchisees will visit customers to take orders and the products would be delivered in three to seven days.
The franchisees will take orders on tablets provided by the company. Customers will be offered over 1,000 deals by Big Bazaar, which has more than 160 stores across the country. Customers will receive a confirmation SMS and they have to make payments to franchisees
The group is aiming to have 100,000 franchisees within the next two years, sources in the group said. Kishore Biyani could not be contacted for comments. Customers are expected to get delivery within three to seven days. Franchisees will earn on each order and Big Bazaar will take care of supplying orders, the company said.
Those willing to be the franchisees need to pay Rs 1,000 as application fee with know your customer documents. Selected parties need to make Rs 3 lakh investment which includes a refundable security deposit, initial advance, set-up charges for the tablets, initial branding, one-year training and so on, the company said.
The group launched the project as pilot three weeks ago in Nagpur and is looking to take it national in the next two months. "Currently, we are giving leads to people and getting franchisee enquiries," a source said. The source said though the company had communicated about three-to-seven-day delivery, ultimately it was looking at 24-hour delivery in cities such as Mumbai and 48 hours in smaller cities.

About Big Bazaar
Big Bazaar one of India's retail pioneers with multiple retail formats, they unite a diverse and zealous community of Indian buyers, sellers and businesses. The combined impact on business is intense: Approximately 300 million customers walk into our stores each year and choose products and services supplied by over 30,000 small, medium and large entrepreneurs and manufacturers from across India. This number is eventually set to grow.
Big Bazaar has employed 35,000 people from every section of society. Supplies come from enterprises across the country, creating fresh employment, impacting livelihoods, empowering local communities and fostering mutual growth.
Big Bazaar completely value the 'Indian dream' and have aligned our business practices to larger objective of being a premier catalyst in India's consumption-led growth story. Big Bazaar constant endeavor is to usher positive socio-economic changes in communities that will help the concept of 'Sone Ki Chidiya' soar once again. This objective remains embedded in our ethos even as we rapidly expand our footprints deeper into India.

Modern retail is intended to drive fresh demand and consumption in new categories. Big Bazaar strategy is based on a similar understanding of the Indian consumers, the products they want, and making these products available in every city, in every store format. Future Group provides innovative offerings at affordable prices that are tailored to the needs of every Indian household.

Source:- Mukesh Yadav