Mary Kay Pink Cadillacs Parade Through Dallas
September 14, 2013
By Tina Williams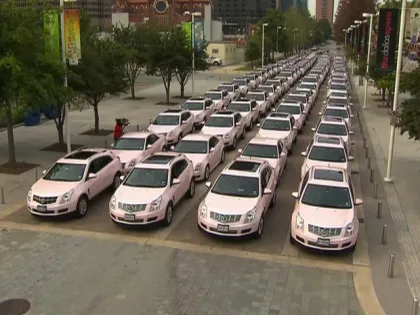 Dallas is experiencing a pink invasion. More than a hundred pink Cadillacs took over the streets for a rally and caravan in the Arts District.
It's all in celebration of the 50th anniversary of Mary Kay Inc.
The caravan started shortly after 11 a.m. The pink Cadillacs traveled up the Dallas North Tollway to the Mary Kay global headquarters in Addison. Once there, they spelled out a commemorative message in tribute to the company's golden anniversary.
The parade is part of a celebration to mark the day when Mary Kay Ash started her business in Dallas 50 years ago. The pink Cadillac now serves as a proud symbol for each businesswoman who drives one.
"People always ask – the first thing they ask – 'Oh, you're Mary Kay, do you drive a pink Cadillac?'" said Lyris Pattersonn, a Mary Kay independent sales director.
"So it's very exciting to instantly answer, 'Yes I do!' And people always want to see the Cadillac. They come out, they look at it, so it's very, very, very, very much a privilege and an honor to drive."
Mary Kay first started using the pink Cadillacs as an award for her top 5 independent sales directors in 1969. These days, they can choose from a sedan, SUV or other types of cars.
About Mary Kay
Today, with more than 3 million Independent Beauty Consultants, Mary Kay offers more than 200 premium products in more than 35 countries around the world. For 50 years, Mary Kay has led the way in giving women what they crave: advanced skin care that delivers results; modern makeup in on-trend colors and advanced formulations; and fresh, unforgettable fragrances.
Source: CBS 11 and Mary Kay Website