Olivia Wilde new face of Avon
September 19, 2013
By Tina Williams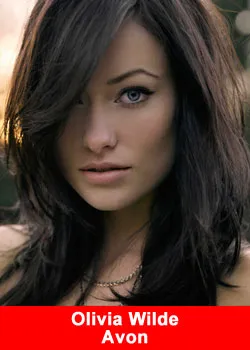 Olivia Wilde is thrilled to be the face of Avon's Today. Tomorrow. Always.
The Rush actress is the new face of the beauty giant's fragrance collection Today. Tomorrow. Always. Her involvement with the brand comes as Avon prepares to celebrate the scents' ten-year anniversary in 2014.
Speaking about her involvement with the perfumes Olivia couldn't contain her excitement.
I am honoured to be partnering with Avon as the face of the Today. Tomorrow. Always. fragrances. The collection is made up of fragrances that are true classics, yet modern and fresh at the same time, she said in a press release.
Each sent has a different feel to it, with Today capturing the lush, sweet scent of the nectar-rich, honey-scented blossoms of the Butterfly Bush while Tomorrow envelops you in the rich, warm scent of exotic flowers and golden fruits.
Last but not least, Forever immerses you in an embrace of petally Florals, creamy woods and sensual musk.
Advertisement images for the fragrance see Olivia pose with the bottles in a beautiful strapless pink tulle gown
The video promotions show Olivia posing on the bonnet of a car in the desert for Today before moving to a city apartment with a handsome male for Tomorrow. To capture Forever the brunette beauty is seen wearing a long black dress and leaning seductively on the balcony of an apartment.
Speaking in a behind the scenes video Olivia revealed what perfume means to her.
I think fragrance can affect your mood. It can bring you back to a time or place. It's obviously very connected to our memories, very connected to our emotions, she smiled. I love how the collection creates a story of romance, with each fragrance encapsulating the different stages of love.
Each product is available exclusively through Avon representatives and on Avon's official website.