Sanjay and Samantha Bora Join Unicity India
September 26, 2013
By Team Business For Home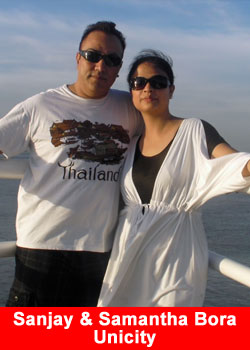 Indian Top Leaders Sanjay and Samantha Bora Join Unicity India

Originally from Dehradun (Uttarakhand) the adventure loving couple has achieved the Bronze Lion and Emerald Executives Top leadership positions in two major wellness MNC companies over the past 10 years.

Sanjay and Samantha Bora involved in Direct Selling in July 2003 with Tianshi (Tiens Group founded in 1995 by Mr. Li Jinyuan in Tianjin China.
Today Tiens Group has become a multinational conglomerate in fields like bio-tech, education, retail, tourism, finance, international trade and e-business, etc. And with its business reaching over 190 countries,) this dedicated leader has brilliantly developed a diverse network, as well as a remarkable reputation as a keynote speaker all over India, as well as in other Asian countries as well, and achieved a the prestigious of Bronze Lion with Tianshi having built an organization with more than 15,000 distributors at the end of 9 years, in India and the neighboring countries as well.
During that time, they developed a huge fan following in the whole north India

After building a successful network marketing career with Tianshi in Eight years they joined another USA Based Direct Selling Nutrition company Monavie (MonaVie burst onto the scene in 2005 and has quickly become a leader in the health and wellness industry. By providing an avenue for better health and financial well-being through its premium quality nutritional products and rewarding opportunity, MonaVie offers a timely solution to today's challenges effective way.) in India September 2011. And they also achieved Emerald Executive position in Monavie and become one of the major distributors especially in North India.

They believe in hard work, helping others and 100% dedication.
Sanjay Say's "You can do anything that you set your mind to accomplish" and that Whoever renders service to many puts himself in line for greatness-Great Wealth, Great Returns, Great Satisfaction, Great Reputation and Great Joy !!!!!!
With the skills, knowledge and experiences of Sanjay Singh Bora they can predict that the Unicity is going to take off in a big way in Indian Market.


Source: Mukesh Yadav