Tina Marie Williams Named As Business For Home Reporter
September 19, 2013
By Team Business For Home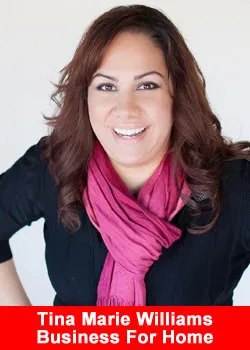 Tina Marie Williams is a work at home mom and owner of Mommy Mogul, a home based business marketing company. Business For Home is proud to have Tina appointed as an official reporter and freelance journalist.
She is a writer/contributer for United Networker Magazine, and a published fiction author of five published books and three being released in the next 8 months. She is published by Nightengale Media and Half Light Publishing. She has spoken at several science-fiction conventions on many author panels and two of her books have reached the top 100 on Amazon in their category.
She has been in network marketing for 11 years, working and training with top industry leaders.
Originaly from Los Angeles, California she currently resides in Scottsdale, Arizona with her husband Larry and son Jackson. She met her husband at a network marketing event in 2003.
When she was first introduced to the industry by her boss she drove two hours to go to a presentation and was instantly hooked. She gives credit to the industry for being a work at home mom and giving her the confidence to pursue all her dreams, regardless of how outlandish they may be.
She says: This industry is one of the most educational experiences you could ever have. Often times, individuals look at success in this industry as being defined by how many zero's fall behind the number in your paycheck.
When asked about her thoughts on the industry in an exclusive interview with our publication a year ago, she shared this with us;
…We are in this industry as a whole and what we do reflects on all of us. This is an industry that is highly criticized and we have to be conscious of what we do. While I can't tell people to stop recruiting people from other companies, I can say this: If you truly believe in what you are marketing, then help those who have not been fortunate enough to experience all this industry has to offer.
There is enough people in the world who still don't know who we, as an industry, are. Let's help ourselves, by helping others. Every time someone in a company reaches a top level, earns 6 or 7 figures, receives an award, it's a win for the industry. Let's applaud them, not try to recruit them.
I'm honored to be a part of this incredible industry, and am excited to see all the successes that are to come!
You can connect with Tina on Facebook here or by following her on Twitter: @imTMWilliams

The Williams Family