Empower Network: $3M Blogging System Launches and $100M Revenue
October 12, 2013
By Tina Williams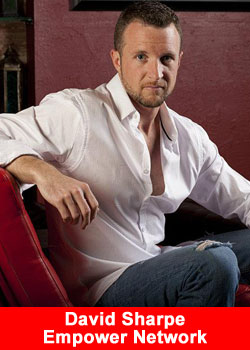 In an exclusive launch, Empower Network pre-released its new viral blogging system Blog Beast for only its existing customers.
Blog Beast, a $3 million investment that took more than a year to develop, is available to the public beginning Oct. 18.
"We wanted to reward our existing customers with early access to experience and enjoy the very powerful, very innovative Blog Beast with them before anyone else," said President David Sharpe. "The online marketing world hasn't seen a blogging platform as powerful as this. There's dozens of new and exciting features, like the mobile app and the ability to run a business from your smartphone."
In the past, mobile apps for blogging platforms were watered down and not as feature-rich. Blog Beast matches the desktop user experience with the mobile user experience.
Blog Beast simplifies the audio and video blogging experience by allowing the user to record video or audio posts with one button on the mobile app. With two simple clicks, anyone can post a podcast or video online from a smartphone or computer, making Blog Beast highly efficient for road warrior or those that don't want to work behind a desk.
The new platform is faster, easier to use and features a better design than the original Empower Network viral blogging system and compared to what is offered through other blogging platforms. It's essentially "grandma-proof," says Sharpe.
The sharing feature allows users to reblog content from other Blog Beast sites, posting information onto their own blogs while giving the original author credit. Original blog posts are linked back when readers post blogs and comments on Facebook and Twitter.
Other options available through Blog Beast are training on blogging, marketing and leadership. A customer relationship management (CRM) system is also available, which allows a user to access his or her back office, view sales and transactions as well as send email blasts to customer groups.
Users can withhold premium content with a paywall, which restricts access to such content and offers a call to action for viewers to upgrade their accounts in order to view such premium content.
Blog Beast is $25 per month, the same as the original Empower Network blogging system. Empower Network used the development codename ENV2 pronounced "Envy 2" (as in Empower Network version 2) for Blog Beast's development.
Empower Network hosts one of the largest blogging communities and publishing platforms online in addition to providing educational and leadership training products and services to online marketers and start-up, home-based and small businesses. Empower Network offers a program through which affiliates can earn commissions off the sales of Empower Network products.
Headquartered in St. Petersburg, Fla., David Wood and David Sharpe founded Empower Network in 2011 to empower small-business owners to make money online without dealing with the technical, marketing, payroll and overhead challenges that frustrate many entrepreneurs and small-business owners. Empower Network's signature product is a viral blogging system geared toward helping its 38,000 affiliates and 80,000 active members use the Internet to grow their businesses online, taking them from disenfranchisement to full self-empowerment through the use of blogs, direct sales and online marketing.
On their launch video released today, they announced earnings of $100 million to date, celebrating nearly 2 years in business.
Source: PRWeb