Herbalife USA Los Angeles Convention Shaken Up By Latino Protestors
October 22, 2013
By Team Business For Home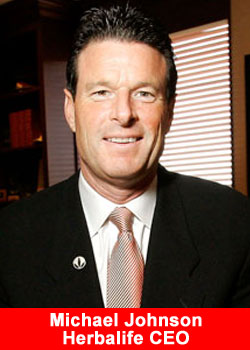 According to an article in Reuters:
Dozens of protestors with signs saying Stop Exploiting Us stood outside the Los Angeles convention center to urge Kamala Harris, the state's attorney general, and Bob Lee, the Santa Cruz District Attorney, to investigate what they call predatory business practices and review how the $6.7 billion company targets minorities.
We are asking Attorney General Harris to help us protect vulnerable, low income Latinos and other minorities from these schemes that have cost people their life savings, said Angelica Salas, Executive Director, Coalition for Humane Immigrant Rights of Los Angeles.
They were meeting nearby the city's convention center where Herbalife was hosting 12,000 Latino distributors at its Extravaganza Latina sales event.
Some prominent Wall Street investors as well as certain civil rights groups have accused Herbalife, which relies on thousands of independent distributors to sell its products, of being a pyramid scheme, something the company denies.
Pyramid schemes, where operators typically try to make money by recruiting new members who pay fees rather than relying only on the sale of goods, are illegal in California. The Attorney General's office has a section on its Web site alerting people to how they differ from legal multi-level-marketing schemes.
Harris' office did not return a call seeking comment.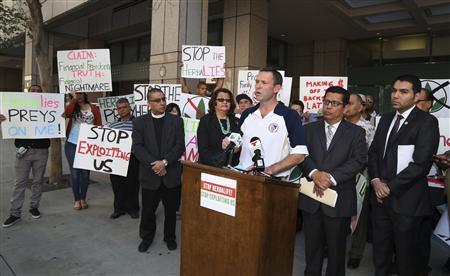 Herbalife spokeswoman Barbara Henderson did not return phone calls or emails seeking comment.
The company often woos potential distributors with stories of big paychecks that lead to luxury cars and super-sized mansions and a carefree lifestyle. In reality more than two-thirds of the distributors made no money at all last year, said Brent Wilkes, national executive director of the League of United Latin American Citizens.
If Herbalife's executives refuse to implement the necessary reforms, at the very least they should stop targeting the family-oriented and trusting Latino community with their deceptive business practices, he said.
Outside the convention center where Herbalife hosted its event the atmosphere became testy when some distributors spat at some of the community activists and when Herbalife CEO Michael Johnson arrived, several eye witnesses said.
Johnson approached us and was very confrontational, said Randy Fox, a regional director for LULAC, adding he told us 'You don't know the facts. We don't want to hear your lies. This is all lies. You should be ashamed of this. Herbalife spokesman James Golden declined to comment on the matter.
For the company, the sales event in Los Angeles caps a busy week when a federal judge denied Herbalife's motion to drop charges brought by a former distributor who accused it of running an alleged pyramid scheme.
The ruling marked a victory for the plaintiff, Dana Bostick, as it was the first court case brought against the company since it captured the public attention of Wall Street where prominent billionaire investors are battling over its future.
Hedge fund manager William Ackman has called the company a pyramid scheme and predicted its stock price will eventually fall to zero. So far he has lost hundreds of millions of dollars on the bet. Billionaire Carl Icahn has bet that the company's share price will climb. Shares closed the week at $65.25, leaving them up 98 percent for the year to date.
Source: Reuters