MonaVie Appoints New CMO Paul Muehlmann
October 10, 2013
By Team Business For Home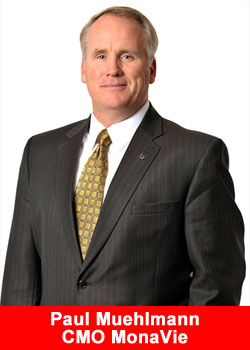 MonaVie, a global leader in premium nutrition products made from the rarest ingredients in the world, today announced that Paul Muehlmann has joined the company as chief marketing officer (CMO).
He will guide the company's strategic global marketing and branding initiatives.
"Paul's prior work experience and track record qualified him as a candidate for this key position with MonaVie," said Mauricio Bellora, President and CEO of MonaVie. "No doubt, he has solid credentials both within and outside of the direct selling industry.
But the reason we chose Paul—and what set him apart from other candidates—is his passion for the direct selling industry and belief in our distributors that what they are doing is helping provide A More Meaningful Life to others.
Of course we were going to hire a qualified candidate with a stellar resume, but it is Paul's passion that ultimately makes him an invaluable addition to MonaVie's senior leadership team. I am confident Paul is the person to successfully advance our product management, marketing, branding and strategy functions during this next phase of our growth."
Muehlmann joins MonaVie with an extensive marketing and sales background that spans more than 25 years. Specializing in global brand development, new product design, strategic marketing, marketing communications and new business development, Muehlmann has worked in the direct selling industry for more than a decade.
Most recently he led the marketing efforts for a multi-national, billion dollar MLM focusing on corporate brand marketing strategy, growth objectives, the company's brand positioning and marketing materials, and product lifecycle management across a diverse range of product lines including nutritional drinks and supplements, personal care products and color cosmetics.
Having launched hundreds of products across six continents, Muehlmann is passionate about ensuring the company's products and services are in tune with company strategy and global consumer demand.
"I'm a big believer in the direct selling industry, and an even bigger believer in those who choose to earn a living—part-time or full time—within this industry," says Muehlmann. "My goal for marketing at MonaVie is to make sure distributors have the tools and training they need to tell MonaVie's story and value proposition simply and effectively.
Furthermore, I want MonaVie consumers to know that they are getting the highest quality, most efficacious products when they see the MonaVie brand. Finally, I want those involved with MonaVie's sustainable giving—via the MORE Project—to know they are making a positive impact in the lives of those who are less fortunate. What a blessing it is to be associated with a company whose mission is: A More Meaningful Life!"
Muehlmann's diverse background also includes top marketing and sales positions at Genealogy.com, Anchor Hocking and Target. He served in the U.S. Army and Army National Guard for 13 years as an intelligence officer. Muehlmann received his B.A. in Broadcast Communications from Brigham Young University and studied business and marketing at St. Thomas University.
About MonaVie
Since 2005, MonaVie has developed premium products dedicated to promoting health and wellness worldwide. With distribution in more than 20 markets, MonaVie addresses four key areas necessary for optimal health—Nutrition, Weight, Energy, and Stress—with products made from the best and rarest ingredients on Earth.
The products, in conjunction with MonaVie VIEW Antioxidant Scanner, empower people to live healthier, more meaningful lives. That greater meaning is revealed through our heartfelt commitment to doing good in the world and by helping children and families in need through the MORE Project. Start living A More Meaningful Life today and discover the true, life-changing power of MonaVie. Learn more at https://www.monavie.com.
MonaVie Top Earners – The Top Earners est. earnings are as follows:
[private_platinum]
[/private_platinum]