MonaVie's Biggest Event In Australia And New Zealand—Acceler8 Regional Conference
October 16, 2013
By Tina Williams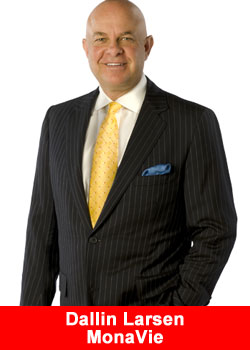 The MonaVie Acceler8 Regional Conference in Sydney on Saturday, 2 November 2013, will feature a stirring speech and presentation from MonaVie Founder and Chairman of the Board Dallin A. Larsen.
Recently voted as one of the most motivational speakers in the world through a poll we ran on the Business For Home website, Dallin's vision has been the main driving force behind MonaVie's reputation for being a company that puts its distributors first.
"Anyone who has ever heard Dallin speak has come away renewed. He speaks from the heart and touches everyone," MonaVie Regional President of Asia Pacific Phil Welch said. "He simply makes you feel like anything is possible and that you have the power to accomplish your dreams. No matter whom you are or what your background might be, you will feel motivated after listening to Dallin."
It's been a few years since Dallin has visited Australia, and distributors are quickly buying up tickets to attend the all-day event for what is considered a rare and exciting opportunity to hear from the MonaVie founder. Distributors are also gathering their prospects so they can hear from Dallin in person and so they can see what MonaVie is all about.
Some of MonaVie's top income earners—Shelley Ke, Megan and Anthony Wolfenden,Zac Chen and Lisa Luong, Bill Chen and Su He, and Ken Li—will all be in attendanceduring the main event andwill be recognized on stage. Many others will be recognized for their accomplishments in building a home-based business that is providing them with a weekly income and is giving them a chance to help others achieve what MonaVie is known for creating—More Meaningful Life experiences.
MonaVie will also make some major announcements during this grand event and unveil a new product that will provide distributors with an amazing way to do business and a simple way to share the product!Those at the event will be able to order the new product and take away a sample to try.
"Tickets have been selling fast, and we are close to full capacity," said David McManus, Regional Managing Director over Australia and New Zealand. "We are excited that this event may sell out. This is themust attend event for the year. If you are serious about building your business and want your guests to see the power of MonaVie's amazing products and opportunity, thendon't miss this event."
Following the main event is an exclusive Black Tie affair, where qualifiers will come dressed to impress as they dine with Dallin and enjoy a luxurious night cruise on the Sydney Harbour.
Tickets to the Acceler8 Regional Conference are only available online for MonaVie distributors until Friday, October 18—unless sold out. The event takes place at the Wesley Conference Centre right in the heart of Sydney.
ABOUT MONAVIE
MonaVie is a leading health and wellness company that produces premium products made from the rarest ingredients on earth. Using the powerful community commerce business model, MonaVie's products are currently marketed througha global network of more than one million independent distributors in more than 20 countries around the world.
Recognized by renowned thought leaders and experts as the global leader that best validates the merits of communitycommerce, MonaVie is effectively addressing the challenges caused by global unemployment by providing an opportunity for millions to experience a more meaningful life.