Nu Skin Convention – 15,000 Attendees
October 29, 2013
By Team Business For Home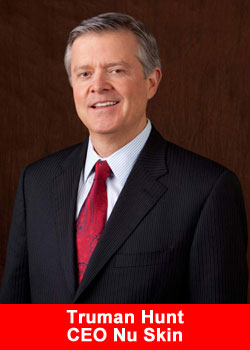 Nu Skin Enterprises, Inc. (NYSE: NUS) concluded its bi-annual global sales convention, highlighted by the largest product launch in the company's history and the official opening of the Nu Skin Innovation Center.
The global convention was the biggest in the company's history with more than 15,000 attendees from more than 50 countries.
This was a historic event as we celebrated several milestones and set our sights on achieving our vision of becoming the world's leading direct selling company, said Truman Hunt, president and chief executive officer.
We were pleased to celebrate our largest product launch ever with the new ageLOC TR90 weight management system.
The convention also marked the official opening of our new Innovation Center and expanded corporate campus, as well as a record level of fundraising for the Nu Skin Force for Good Foundation.
ageLOC TR90®
ageLOC TR90 is a breakthrough weight management and body shaping system, based on highly innovative gene expression science, that unifies the mind and body. TR90 includes four proprietary nutritional products including: ageLOC TR90 JumpStart, ageLOC TR90 Fit, ageLOC TR90 Control, and ageLOC TR90 TrimShake.
These nutritional products, along with the TR90 Eating Plan and activity guidelines are designed to target three important areas for weight management: healthy metabolism, lean muscle and appetite control.
Nu Skin Force for Good Foundation
A highlight of the global convention was the fundraising gala for the Nu Skin Force for Good Foundation, a non-profit charity with a mission to improve the lives of children by offering hope for a life free from disease, illiteracy, and poverty. The gala and convention fundraising reached more than $2.2 million in donations for the Foundation. (www.forceforgood.org).
Nu Skin Innovation Cente
The Nu Skin Innovation Center represents the company's commitment to continual innovation. With the completion of this state-of-the-art Innovation Center, the expanded Nu Skin campus includes more than 300,000 total square feet that features five lab areas, a state-of-the-art data center, environmentally friendly design, and modern work and meeting spaces.
The heart of the Innovation Center is Nu Skin's Center for Anti-aging Research, which will be the company's center for continual innovation and scientific discovery. The new research facilities will be instrumental in the development and evaluation of Nu Skin products.
About Nu Skin Enterprises, Inc.
Nu Skin Enterprises, Inc. demonstrates its tradition of innovation through its comprehensive anti-aging product portfolio, independent business opportunity and corporate social responsibility initiatives. The company's scientific leadership in both skin care and nutrition has established Nu Skin as a premier anti-aging company. The company's anti-aging products feature the new ageLOC® suite of products including the ageLOC® R2 nutritional supplement, ageLOC® Galvanic Body Spa™, as well as the ageLOC® Transformation daily skin care system.
A global direct selling company, Nu Skin operates in 53 markets worldwide and is traded on the New York Stock Exchange under the symbol NUS. More information is available at https://www.nuskin.com.