Nu Skin Invests $100 million In New Corporate Facilities
October 23, 2013
By Team Business For Home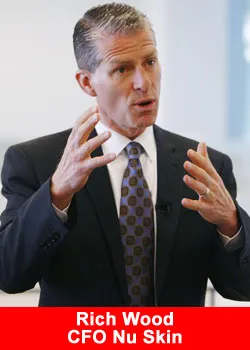 Nu Skin Enterprises, Inc. (NYSE: NUS) today announced the opening of its new Innovation Center and expanded U.S. headquarters, demonstrating its commitment to expand its infrastructure to support growth.
The company has invested more than $100 million in the new corporate facilities. In addition, Nu Skin announced that it expects to complete its new Greater China regional headquarters and Innovation Park in Shanghai by the end of the year.
These new facilities reflect our investment in our future and our commitment to advancing Nu Skin's long-term growth potential, said Ritch Wood, chief financial officer.
We continue to foster a culture of innovation, providing a steady stream of state-of-the-art anti-aging solutions and a continually attractive business opportunity for our sales leaders.
These new facilities also reflect the hard work and dedication of the entire Nu Skin family and our vision to become the leading direct selling company in the world.
About the U.S. Innovation Center:
The expanded U.S. headquarters campus includes more than 300,000 total square feet that features five research laboratories, a state-of-the-art data center, environmentally friendly design, and modern office and meeting spaces.
The heart of the Innovation Center is Nu Skin's Center for Anti-aging Research, which will be the company's global center for innovation and scientific discovery. The new research facilities will be instrumental in the development and evaluation of Nu Skin products.
About the Innovation Park:
The Innovation Park in Shanghai will serve as the regional headquarters for the Greater China region, including a world-class anti-aging research and development laboratories, as well as manufacturing facilities, modern meeting spaces and green areas.
It is located in the heart of Shanghai's Fengxian District on a 9.4 acre parcel of land and encompasses more than 365,000 square feet. The Innovation Park features three buildings: a headquarters which will house employees, a product development production and distribution center, and a vision hall which will include a 230 seat auditorium.
About Nu Skin Enterprises, Inc.
Nu Skin Enterprises, Inc. demonstrates its tradition of innovation through its comprehensive anti-aging product portfolio, independent business opportunity and corporate social responsibility initiatives. The company's scientific leadership in both skin care and nutrition has established Nu Skin as a premier anti-aging company. The company's anti-aging products feature the new ageLOC® suite of products including the ageLOC® R2 nutritional supplement, ageLOC® Galvanic Body Spa™, as well as the ageLOC® Transformation daily skin care system. A global direct selling company, Nu Skin operates in 53 markets worldwide and is traded on the New York Stock Exchange under the symbol NUS.