The Top MLM Leader Under 30 Years Poll 2013 – Round 2
October 16, 2013
By Team Business For Home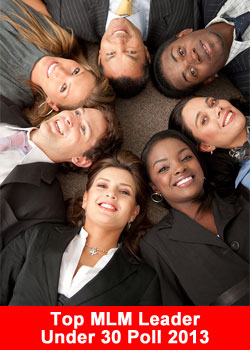 Business For Home is organizing the Top MLM Networker under 30 years Poll 2013. Awesome MLM – Network Marketing – Direct Selling field leaders with a proven track record.
They show the world the MLM industry has a Better Way for young driven people!
Social media kings and queens, young, smart, hot leaders, open minded, and hard workers. Future millionaires, Gen Y, YPR.
According to many Leadership has been described as "a process of social influence in which one person can enlist the aid and support of others in the accomplishment of a common task.
Other in-depth definitions of leadership have also emerged.
Leadership is organizing a group of people to achieve a common goal. The leader may or may not have any formal authority.
Studies of leadership have produced theories involving traits, situational interaction, function, behavior, power, vision and values, charisma, and intelligence, among others. Somebody whom people follow: somebody who guides or directs others.
The poll will have 2 rounds:
Round 1: Results are here: The Top MLM Leader Under 30 Years Poll 2013
Round 2: The Nr. 1's per company (16-31 October)
Voting For Round 2 is closed
We love to have your facebook comments (scroll down)
Please scroll down to vote for your candidate
Under the last photo's is the vote box!
The final ranking after 23,623 votes:
Please hold on..