ViSalus, Inc. Wins '2013 Best and Brightest in Wellness' Award
October 23, 2013
By Tina Williams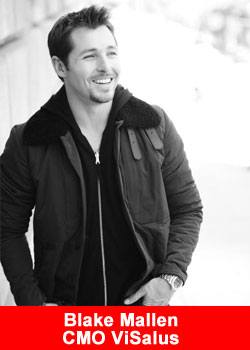 ViSalus, Inc., the company behind the #1 90-Day weight-loss and fitness challenge platform in North America, announced today that its Michigan global headquarters is a 2013 Best and Brightest in Wellness Award winner.
The honor included a feature profile in Corp! magazine's October 10, 2013 online issue.
Bestowed on wellness companies that demonstrate innovation, the award was given to ViSalus, in part, for the extensive resources provided to employees.
One of the amazing features of the Michigan office is a 2,500-square-foot state-of-the-art fitness facility where employees can take low-cost personal training and small group classes with flexible class times to accommodate different employee shifts.
A centerpiece of the office is the 4,000-square-foot open-format kitchen and communal space where employees can snack on the ViSalus nutritional products, prepare food, and collaborate in a cool and stimulating environment.
This award is a tribute to the environment we have created here at ViSalus, said Ryan Blair, ViSalus Co-Founder and CEO. We are firm believers in aligning our corporate culture with that of our Promoters, who are all about promoting a healthy lifestyle through the Body by Vi Challenge™.
ViSalus has long prided itself on being a progressive workplace that empowers employees across the organization to reach attainable health and wellness goals for themselves. In addition to employees participating in the Body by Vi 90-Day Challenge, ViSalus offers Shake n Learns – fresh and fun on-site learning sessions.
These sessions include experts in the health and wellness field coming on-site to interact with employees about topics, from eating and cooking healthy, to communicating ViSalus' product formulation and how it works, as well as providing introductions to such community resources as the American Red Cross. Employees are incentivized with such programs as Work Out and Win and the Vi Expert Fitness Program, which offer cash incentives for employees to exercise.
About ViSalus
ViSalus, Inc. is a healthy lifestyle company that is dedicated to Taking Weight Off the World.™ One person at a time. 10 lbs. at a time. Founded in 2005, ViSalus develops quality weight-management products and nutritional supplements that it markets and sells direct-to-consumers through an international sales force of independent promoters. ViSalus markets its products in North America under the ViSalus® brand, and in the United Kingdom under the Vi™ brand through the Body by Vi Challenge™.