Business For Home Accepts Bitcoins
November 25, 2013
By Team Business For Home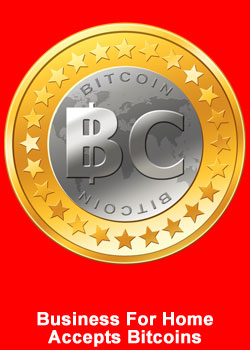 The Business for Home website accepts as of 25 November Bitcoins for memberships.
As an Bitcoin introduction offer a Life Time Membership on the premium content of the website will be discounted from $77 for $47.
Bitcoin is the world's most widely used alternative currency with a total market cap of approximately $9.9 billion. The bitcoin network is made up of thousands of computers run by individuals all over the world.
Bitcoins are increasingly used as payment for legitimate products and services, and merchants have an incentive to accept the currency because transaction fees are lower than the 2 to 3% typically imposed by credit card processors. Notable vendors include OkCupid, Reddit, WordPress, and Chinese Internet giant Baidu.
Business For Home solution provider is Coinbase, which is based in San Francisco, California, USA.
Founded in June of 2012, Coinbase is a bitcoin wallet and platform where merchants and consumers can transact with the new digital currency bitcoin.
Key Metrics Coin base as of November 2013:
451,000 consumer wallets

14,000 merchants

U.S. bank integration
Special BITCOIN only Introduction Offer:
LifeTime Membership from $77 for $47