Isagenix Co-Founder Kathy Coover Wins Silver Stevie Award
November 16, 2013
By Team Business For Home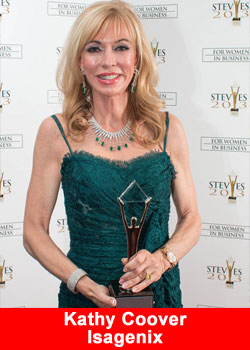 Congratulations to Isagenix® Co-Founder and Executive Vice President Kathy Coover who was honored Friday night, November 8 with the Silver Stevie Award for Female Executive of the Year.
This was the first Silver Stevie for Isagenix, the second-highest honor awarded by The American Business Awards, and the 19th Stevie Award bestowed upon Isagenix.
Considered the "Oscars" of the business world, The American Business Awards recognized Kathy in New York City at the 10th Annual Stevie Awards for Women in Business awards dinner.
Kathy says she's proud to represent Isagenix at this year's Stevie Awards and says, "It's all about team; Isagenix is really the shining star and we are just getting started!"
"This company is doing extraordinary things; we are on a mission to impact global health and this is further proof we're doing it," continues Kathy. "I am so honored to be recognized with this award.
I feel so lucky to be able to wake up every day, help other people achieve their best health and mind-blowing wealth, and represent this amazing company. Together we will!"
For more details on the The American Business Awards, visit StevieAwards.com.