Kevin Marino – North American Power Hits $1 Million In Combined Earnings
November 23, 2013
By Team Business For Home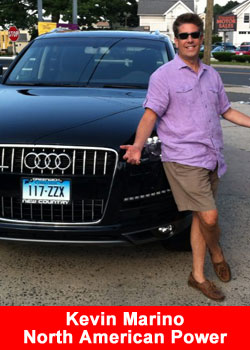 An entrepreneur all his life, Kevin Marino had numerous businesses, including four bars and restaurants, as well as a jewelry manufacturing and wholesale business.
But in 2008, his world came crashing down around him with the real estate meltdown and an emotionally and financially draining divorce. Kevin was broke. Just to earn enough to eat and put gas in the car, Kevin refereed three high school sports teams. It was at that point his life took an interesting turn.
"I had met North American Power's Co-Founder & CEO, Kerry Breitbart, before he started the company. It was always apparent to me that Kerry was a man of substance and character. When I heard Kerry and his good friend Carey were starting up an energy company, I didn't hesitate to get involved as a Representative, and I've never looked back."
[private_platinum]
Kevin dedicated himself to setting and meeting a series of simple, but substantial goals. First, become financially secure again, so he could fulfill his second goal: "I wanted to marry Diana, a wonderful woman I met shortly after my world blew up and I was dead broke.
"Kevin met his first goal and got his finances in order by sharing the North American Opportunity with everyone he knew. And about that second goal? "Diana and I were married in October of 2011. Kerry Breitbart even sang at our wedding. The wedding was enjoyed by 150 of our family members and closest friends, and I'm happy to say many of those friends are now Customers and Representatives with North American Power!"
Their finances continued to improve to the point that Diana left a corporate job she hated, and joined Kevin with his work as a Representative.
"The best thing is, we have the financial freedom to work the hours we want and make as much income as we choose, and we spend as much time as we want with friends, family and each other."
[/private_platinum]