Matt Lloyd – CEO My Online Business Empire Interview
November 18, 2013
By Team Business For Home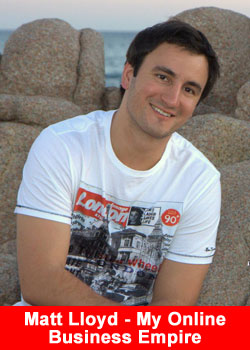 Matt Lloyd from Perth, Australia started his home based company, My Online Business Empire (MOBE) in January 2012, from scratch.
MOBE is structured around the concept that the more leads a marketer's website generates, the more success and more money they will make from their website. Matt Lloyd is founder and CEO.
MOBE is an unique affiliate program which pays out up to 90% in commissions. Affiliate marketing is selling another person's product or service to earn a commission and it is by far one of the fastest, easiest ways to get started making a significant income online. MOBE is paying out in a typical month $500,000 in commissions.
By taking advantage of the Mobe License Rights, the high achieving entrepreneur has all the tools they need to create a successful internet marketing business. Ted Nuyten had the honor to interview Matt Lloyd:
Matt, what inspired you to launch Your Company?
MOBE was really borne out of sheer frustration. I'd been trying to make money online since November 2008 – and after over 2 years, I had very little to show for it. I'd put everything else in my life on hold – dropping out of college, and virtually living out of my bedroom – I was just obsessed with making this work.
The more I failed…the more determined I became.
Every single person around me – friends, family, thought it was a joke. They thought all these 'make money online' things were a scam… and they told me. Some laughed about it. But I had seen proof other people were doing this, and knew I could.
After those first 2 years, I started making sales. I had my first $3,000 month… and then it went back down. For a while, it was up and down. In the back of my mind, I almost felt sorry for anyone starting out, who was about to go through everything I'd been through.
So, I decided to do something about it.
I stated creating systems that others could market… and make commissions from. And people started actually making money with it. Not a lot… but some. That was all the encouragement I needed – I put all my energy into creating products and systems others could license, and leverage – and making it really easy for them to make commissions.
3 years and almost $20 million later, MOBE has become the fastest growing internet marketing company in our niche – and, the best part is, our rate of growth right now is higher than it's ever been.
What is MOBE?
What did you do prior to launching Your Company?
Before I got into the internet marketing world, I was at college – 4th year, one year away from graduating with a promising career in finance. On the side, I'd started mowing lawns and cleaning houses for cash – so when I wasn't in classes, I was working.
I saved literally every dollar I made. But I hated it. Most of the work I got was in the rich suburbs – so I'd see all these big fancy homes… and then I'd be in the bathroom cleaning toilets.
So I decided to see if there was another way to make money on the side. That night, I went on Google, and started searching around… and before I knew it, I found the internet marketing world.
I was hooked. Like most people reading this – I saw all the stories of people making $50,000 a month and more. Ha.. it's funny – at the time that seemed nearly impossible. Just completely outside of my reality. And now, we do those kinds of numbers every single day (at least in revenue).
So things are certainly a lot better these days.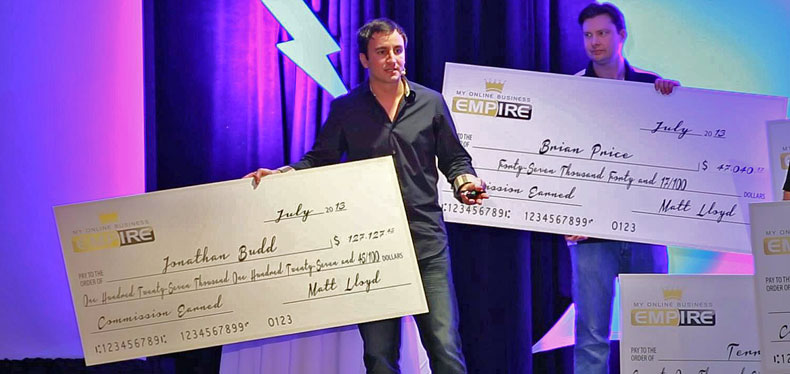 What do you like about it?
I love not having to answer to anyone. I always had a problem with authority – in high school, I was suspended over 4 times! So I always knew that running my own business
I love being able to travel the world, and put on our events, and meet our clients. Last month I was in Mexico, and I stayed at a resort for 4 weeks. Then, I went to San Diego… in 3 days, I'm going to Bali for a week to check out more resorts (I'm thinking of doing a big conference there in 2014). Then next month, I'm going to Arizona.
I spend probably half of the year overseas travelling to different countries. Once I have a family I won't want to do that – but being a 26 year old guy, with nothing tying me down to Australia, it is fun to travel the world.
What are some of the benefits?
The best thing about what I do, is when one of our members makes a sale. We have people making the smaller commissions all the time – that's not a big deal.
But, when people are making the $1,000, $3,000 or $5,000 commissions that our higher end programs pay out, that's exciting. I like to go and post on their Facebook walls and say something like, hey, congratulations, you just made a $5000 commission. I imagine them going on Facebook and seeing that, and their reactions.
At the end of the day, I love seeing our partners succeed. I know what it's like to struggle. I know what it's like to be up into the wee-hours, staring at a computer screen, pulling my hair out in frustration because nothing is working.
What was your life like before?
Before this, I had my ups and downs financially. I've always been careful with my money… but, a few times, I came really close to being broke. Especially in those first 2 years online – I was just buying everything… and didn't have any solid direction.
MOBE has given me purpose. I don't usually talk about it, but, for a number of years I was prone to depression – I went through phases where I was on the medication, which I hated, and I was seeing shrinks.
I guess being an entrepreneur in a world full of job-minded people, you don't always fit in.

Why do you think other people would/should join you?
It's hard for me to answer this question without sounding like I'm boasting. But if you compare MOBE to any other 'work-from-home' marketing system out there, what we offer is better. Because it actually works – incredibly well.
We have a higher % of partners making commissions than any other program out there. And, the people making money with it are NOT gurus. Sure, we have a few gurus on board (one of the top ones is up to over $400,000 in commissions in his first 13 months). But, most of our partners are regular people – people younger than me, in their early 20s… but also people right up into their late 80s!
In a typical month, we pay out over half a million dollars in commissions. I transfer that from my bank account to our E-wallet account (what we use to pay people) and then that money gets sent in thousands of directions all around the world to our partners.
It's a pretty cool feeling to be a part of that.
And our products are actually good – so it's not just a money game. People can feel good about promoting MOBE. We also give out free Mercedes Benz's to our partners who get regular sales – you can see some of them at www.MobeMerc.com I purposely made it easy for people to get the Merc too – from as little as 3 sales a month, you can go down to your local Merc dealership and pick up your new car. People seem to really like that.
I'm excited about our future. I work harder now than ever before, making sure that MOBE will continue to scale and get better – and I'm extremely optimistic about where things are going, and the results our partners will get.
In 2014 we're going to have partners cross over $1 million in total commissions so that will be exciting – and we'll have a lot of our newer members step things up and start having their first 6 figure years online. Our goal is to do $50 million in revenue in 2014 – with most of that going back to our partners. I've looked at our numbers, and it's very doable. I'm just thankful I got into this industry, took a chance, and didn't listen to the doubters.
My advice to anyone reading this – is try out what MOBE offers. It works. It's working for people all around the world, and it can work for you too.
Contact details Matt Lloyd
www.facebook.com/mattlloydonline