Nu Skin Enterprises Announces 2014 Annual Guidance + 22 – 25% Sales Increase
November 21, 2013
By Team Business For Home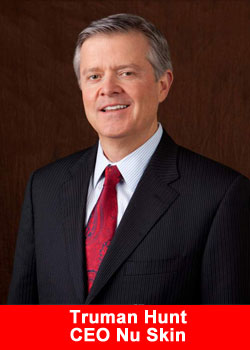 In connection with its annual investor day, Nu Skin Enterprises, Inc. (NYSE: NUS) today provided its 2014 financial guidance. The company projects 2014 revenue of $3.9 to $4.0 billion, a 22 to 25 percent increase including an anticipated negative foreign currency impact of 3 percent. Earnings per share are estimated to be $7.25 to $7.50, an increase of 25 to 30 percent over 2013.
We are extremely pleased to project continued strong revenue growth in 2014, said Truman Hunt, president and chief executive officer.
As we continue to innovate in both our product and distribution channels, we anticipate strong growth in our sales leaders and consumer base, as well as healthy trends in all of our regions. We also look forward to maximizing the demand for our ageLOC TR90 weight management system with regional limited-time offers in 2014. Our management team looks forward to sharing more details of our 2014 and longer-term plans at our annual investor day meeting today.
A webcast of the event will start at 9 a.m. EST and will be available at https://ir.nuskin.com. A replay of the webcast, along with accompanying slides and financial information, will be made available from the same location through Dec. 13.
About Nu Skin Enterprises, Inc.
Nu Skin Enterprises, Inc. demonstrates its tradition of innovation through its comprehensive anti-aging product portfolio, independent business opportunity and corporate social responsibility initiatives. The company's scientific leadership in both skin care and nutrition has established Nu Skin as a premier anti-aging company.
The company's anti-aging products feature the new ageLOC suite of products including the ageLOC® R2 nutritional supplement, and ageLOC® Galvanic Body Spa™, as well as the ageLOC® Transformation daily skin care system.
A global direct selling company, Nu Skin operates in 53 markets worldwide and is traded on the New York Stock Exchange under the symbol 'NUS'. More information is available at https://www.nuskin.com.
Nu Skin Top Producers:
| | | | |
| --- | --- | --- | --- |
| | | | |
| Angela Liew and Ryan Ho | Nathan Ricks | John and Giselle Sexsmith | Naoki and Kimie Hongo |
| | | | |
| Tetsuya Fujisawa | Michiko & Bruno Graf | Ming Kuan and Ming Chu Chen | Betty Sung |
| | | | |
| Craig Bryson | Takako Kitaoka | Kei Itaka and Midori Tajima | Ronnie and Sally Park |
| | | | |
| Resa and Matt Salter | Tatsuru Igarashi | Craig S Tillotson | Abraham Jong Min & Sun Mee Min |
| | | | |
| Peter and Kaoru Bannister | Coni and Dave Johnson | Pat and Marguerite Sung | Masayuki Kishimoto |
| | | | |
| Ingela & Carleric Lindstrom | Clara and Jim Mcdermott | Kaneko Katsumi | Susan Pursel |
| | | | |
| KP and Teresa Cheng | Hung Tai Wang | Russ and Linda Karlen | Kathy and CC Shih |
Nu Skin Top Earners – The est. earnings are as follows:
[private_platinum]
[/private_platinum]