Top 100 Worldwide Earners In MLM – November 2013 Update
November 27, 2013
By Team Business For Home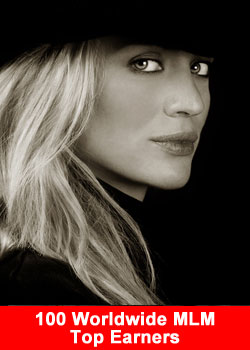 The ranking The estimated earnings are based on Internet research, earnings claims from conventions, downline, upline, crossline information, direct selling magazines and through our 70+ reporters.
Numerous top earners and companies share earnings with us. Our objective is to show people, you can make an honest living with MLM, Direct Selling working with all kind of Direct Selling Companies.
These leaders had an incredible vision, empower people, and change their life through this business. They build Million-Dollar Distributorships through Million Dollar Relationships.
The published distributor earnings are based on this confidential form, public sources, conventions, as well as up- and downline information and are estimated due to the dynamics in pay plans.
The estimated (gross) earnings are per month. You can search on name/company in our full database.
Adjustments, or did we miss you and do you make more then $ 5,000 per month?
To view all 8,700+ Top Earners click here
| Rank | WW Rank | Name | Company | Est. Month | Est. Year | Website |
| --- | --- | --- | --- | --- | --- | --- |
| 1 | 1 | Holton Buggs | OrganoGold | $1,300,000 | $15,600,000 | www.organogold.com |
| 2 | 2 | Angela Liew and Ryan Ho | NuSkin | $1,100,000 | $13,200,000 | www.nuskin.com |
| 3 | 3 | Dexter & Birdie Yager | Amway | $1,000,000 | $12,000,000 | www.dexandbirdieyager.com |
| 4 | 4 | Shane Morand | OrganoGold | $1,000,000 | $12,000,000 | www.organogold.com |
| 5 | 5 | Barry Chi & Holly Chen | Amway | $650,000 | $7,800,000 | www.amway.com |
| 6 | 6 | David Wood and David Sharpe | EmpowerNetwork | $500,000 | $6,000,000 | www.empowernetwork.com |
| 7 | 7 | Brian McClure | Ambit | $452,000 | $5,424,000 | www.ambitenergy.com |
| 8 | 8 | Abraham Benitez and Raquel Cortez | Herbalife | $450,000 | $5,400,000 | www.herbalife.com |
| 9 | 9 | Foo Howe Kean & Jenny Ko | Amway | $450,000 | $5,400,000 | www.amway.com |
| 10 | 10 | Jose Ardon | OrganoGold | $450,000 | $5,400,000 | www.organogold.com |
| 11 | 11 | Sunny Hsu & Debra Hsieh | Amway | $400,000 | $4,800,000 | www.envip.com/en.asp |
| 12 | 12 | Enrique and Graciela Varela | Herbalife | $395,000 | $4,740,000 | www.herbalife.com |
| 13 | 13 | Steve Thompson | Ambit | $370,000 | $4,440,000 | www.rsthompson.com |
| 14 | 14 | Christian Steinkeller | OrganoGold | $360,000 | $4,320,000 | www.world.organogold.com |
| 15 | 15 | Carol & Ken Porter | Monavie | $350,000 | $4,200,000 | www.Monavie.com |
| 16 | 16 | John Sachtouras | OrganoGold | $350,000 | $4,200,000 | www.organogold.com |
| 17 | 17 | Nancy Dornan | Amway | $350,000 | $4,200,000 | www.n21corp.com |
| 18 | 18 | Tae Ho Kim | Herbalife | $350,000 | $4,200,000 | www.herbalife.com |
| 19 | 19 | Philip Eckart | Ambit | $324,000 | $3,888,000 | www.ambitenergy.com |
| 20 | 20 | Ashley and Nick Sarnicola | ViSalus | $300,000 | $3,600,000 | www.visalus.com |
| 21 | 21 | Carol and Alan Lorrenz | Herbalife | $300,000 | $3,600,000 | www.herbalife.com |
| 22 | 22 | Kaoru Nakajima | Amway | $300,000 | $3,600,000 | www.heckel.ne.jp |
| 23 | 23 | Tom & Bethany Alkazin | Vemma | $280,000 | $3,360,000 | www.vemma.com |
| 24 | 24 | Leonard & Irina Weisbein | Herbalife | $275,000 | $3,300,000 | www.herbalife.com |
| 25 | 25 | Seung Ja and Young Ho Kang Park | Herbalife | $265,000 | $3,180,000 | www.herbalife.com |
| 26 | 26 | Dong Keun Chung | Herbalife | $255,000 | $3,060,000 | www.herbalife.com |
| 27 | 27 | Luis & Angela Ventura | OrganoGold | $251,000 | $3,012,000 | www.successteam.organogold.com/r/US/ |
| 28 | 28 | David Imonitie | OrganoGold | $250,000 | $3,000,000 | www.organogold.com |
| 29 | 29 | Kami and Nathan Dempsey | ITWorks! | $250,000 | $3,000,000 | www.kamidepmsey.myitworks.com |
| 30 | 30 | Kang Hyeon Sook & Ryu InIk | Amway | $250,000 | $3,000,000 | www.amway.com |
| 31 | 31 | Leonard & Esther Kim | Amway | $250,000 | $3,000,000 | www.wwdbkorea.com |
| 32 | 32 | Madra Meystedt Jones | ITWorks! | $250,000 | $3,000,000 | www.simplyskinny.myitworks.com |
| 33 | 33 | Mark Lei & Peggy Yeh | Amway | $250,000 | $3,000,000 | www.amway.com |
| 34 | 34 | Max Schwarz | Amway | $250,000 | $3,000,000 | www.schwarz-organisation.eu |
| 35 | 35 | Peter & Eva Muller-Meerkatz | Amway | $245,000 | $2,940,000 | www.peterundevamm.com |
| 36 | 36 | John and Lori Tartol | Herbalife | $240,000 | $2,880,000 | www.herbalife.com |
| 37 | 37 | Susan Peterson | Herbalife | $240,000 | $2,880,000 | www.herbalife.com |
| 38 | 38 | Brad Alkazin | Vemma | $220,000 | $2,640,000 | www.vemma.com |
| 39 | 39 | Calvin Becerra | Monavie | $210,000 | $2,520,000 | www.calvinbecerra.com |
| 40 | 40 | Gina & Steve Merritt | Monavie | $210,000 | $2,520,000 | www.Monavie.com |
| 41 | 41 | Nathan Ricks | NuSkin | $210,000 | $2,520,000 | www.nuskin.com |
| 42 | 42 | Jeremy Miner | WMI | $205,000 | $2,460,000 | www.wmitoday.com/jminer |
| 43 | 43 | Aron Steinkeller | OrganoGold | $200,000 | $2,400,000 | www.organogold.com |
| 44 | 44 | David Moses | Zija | $200,000 | $2,400,000 | www.davidmoses.com |
| 45 | 45 | Ed Bestoso | Melaleuca | $200,000 | $2,400,000 | www.bestoso.com |
| 46 | 46 | Mark and Tammy Smith | Nerium | $200,000 | $2,400,000 | www.markandtammysmith.com |
| 47 | 47 | Mark Comer | Synergy | $200,000 | $2,400,000 | www.synergyworldwide.com |
| 48 | 48 | Minh and Julie Ho | TalkFusion | $200,000 | $2,400,000 | www.talkfusion.com |
| 49 | 49 | Rafael Rojas | Melaleuca | $200,000 | $2,400,000 | www.melaleuca.com |
| 50 | 50 | Vick Strizheus | EmpowerNetwork | $195,000 | $2,340,000 | www.empowernetwork.com |
Showing 1 to 50 of 100 entries
To view all 8,700+ Top Earners click here