Christina Perry Motivational Success Coach Joins Zrii
December 12, 2013
By Tina Williams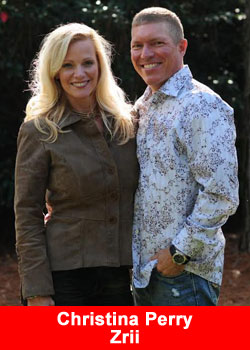 Zrii LLC today announced that motivational success coach and direct marketing million-dollar producer Christina Perry of Jamestown, North Carolina, has joined Zrii. She was formerly a 5-Star Ambassador and top money earner in another direct selling company.
Knowing Zrii has the purest products in the world, and then seeing the incredible compensation plan and support systems they created that allow new recruits to take action and produce immediate results really impressed me, says Christina Perry. After my initial meeting with Zrii President A. K. Khalil, I realized we both believe that leading with integrity, ethics and morals is the only way to live.
A respected leader in the network marketing industry, Christina Perry has committed her life to sharing her secrets of success and empowering people to achieve what they previously thought was impossible. For over 20 years she has worked in national and international business ventures, including the launch of a new product in Europe that developed into a network of 45,000 independent executives worldwide.
Christina Perry's partner in life and wealth creation is her husband Todd, who brings with him 18 years of experience in banking and the financial industry. After he researched Zrii and met the executive team the decision to join was easy. We want to be associated with Zrii because it has excellent core values and the highest quality natural products, Todd Perry explains.
Zrii President A. K. Khalil was thrilled to welcome the Perrys to Zrii. So many amazing things are happening at Zrii that it is starting to grab the attention of the best and brightest in the industry, says Mr. Khalil. What I love about Christina and Todd is that they are incredible leaders and really good people with huge hearts who are determined to help everyone be the very best they can be.
What impressed me most when they decided to plant their flag at Zrii is that they did so without asking for any special treatment, adds A.K. Khalil. They told me they are just excited to wake up every day and feel they are in the right place with a company based on honesty and integrity.
Christina Perry remembers being surprised by her first meeting with Zrii Founder and CEO Bill Farley. He didn't say he wanted to be the number one company, he said he wanted Zrii to be the most admired company in the world. The attitude of putting people first is something she enthusiastically embraces, saying, With loving gratitude you can soar to all levels in life.
Zrii is a rapidly growing company that has jumped from $1 million to over $4 million a month in sales in the last eight months. It was founded in 2008 with the goal of enhancing the health and happiness of people around the world through all-natural nutrition and wellness products.
Zrii partners with the world-renowned Chopra Center for Wellbeing, headed by Dr. Deepak Chopra, to create premium health products that integrate ancient wisdom with modern science. Zrii products are sold through a network of Independent Executives throughout the United States, Canada, and Latin America.