Cutco Commits to USA Domestic Manufacturing
December 18, 2013
By Team Business For Home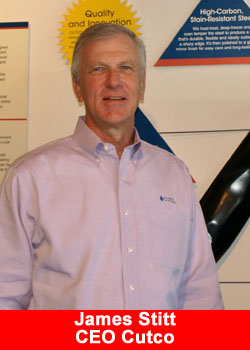 As the costs of overseas manufacturing rise and companies begin to rethink their outsourcing policies, one company holds true to the belief that remaining "Made in America" just makes sense.
These sentiments were supported by a survey released earlier this year by the Consumer Reports National Research Center.
This survey reports: "Given a choice between a product made in the U.S. and an identical one made abroad, 78 percent of Americans would rather buy the American product, according to a new nationally representative survey by the Consumer Reports National Research Center."
"The survey is consistent with what we hear from our customers. When given the opportunity, people prefer to buy products that are made in America," says James Stitt, Jr., President and Chief Executive Officer of Cutco Cutlery Corporation. "They feel better about these purchases on many levels, from the quality of the product to the pride of buying American to knowing they are helping the economy and U.S. workers. Savvy companies will proudly let potential buyers know that they are American-made. It is both good for the company and good for the consumer."
Made in America also makes sense from an internal perspective, Stitt says. "Our sales representatives are proud to sell products that are made in America. Many of them even visit our manufacturing facility in Olean and get to meet the people behind the products. This translates into a kinship and enthusiasm for the product that becomes apparent during sales presentations."
Cutco's customer call center is located in Olean, which Stitt says also enhances the customer experience. "Our customer service representatives are located within close walking distance of our factory. This enables them to literally put a customer on hold while going directly to the source regarding a question," he says. "Again, companies that manufacture their products in one country and have their call center in another certainly cannot offer that level of integrated customer service experience."
The bottom line, according to Stitt, is that Cutco has known for 65 years what other companies are just now figuring out: "There is just no doubt that by producing our cutlery in America, we benefit from a win/win/win relationship among the company, the sales force and the customer that would not otherwise be possible. We believe that if other companies remain committed to keeping their manufacturing at home, they will experience this same positive synergy."
About Cutco Cutlery and Vector Marketing
Cutco Cutlery is a 65-year-old company with headquarters and manufacturing facilities in Olean, New York. Vector Marketing is the company's sales division, coordinating sales for Cutco Cutlery through a national network of college students who sell products through in-home personal demonstrations. More than 13 million US households have a Cutco product. For more information on CUTCO, please visit https://www.cutco.com or https://www.vectormarketing.com.