PartyLite Donates $1.4 Million To TODAY Show's Holiday Gift Drive
December 13, 2013
By Tina Williams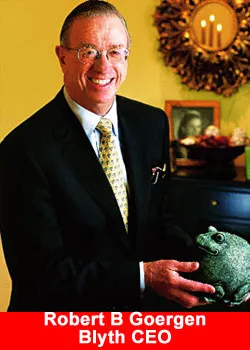 PartyLite, a direct to consumer company and leading designer and marketer of health & wellness and beauty products, as well as candles and accessories for the home sold through the direct selling and direct marketing channels, announced that its PartyLite division, the world's largest direct-seller of candles, candle accessories and premium home fragrance products, and its 15 thousand North American independent consultants will participate in its eighth consecutive year of supporting NBC-TV's TODAY show's Holiday Gift Drive.
Appearing on the December 13 th segment, Michael Norris , PartyLite North America's President, noted that it is with great pride that PartyLite is once again able to participate in this holiday program, donating $1.4 million in products for less-advantaged children to use as holiday gifts for their parents and teachers. PartyLite's independent consultants have a long tradition of supporting both national and local charitable organizations, most notably the American Cancer Society and, in Canada , the Children's Miracle Network.
According to Michael Norris , President of PartyLite Americas, this is the company's eighth year donating products to this famous charity. This is the TODAY Show Holiday Gift Drive's 20th anniversary year, he said, and we're delighted to report that our total contribution to date totals just over $20 million!
We've pioneered the idea of donating gifts kids can give to their moms or their grandmothers or perhaps their teachers, said Norris. The local organizations that ultimately distribute these products tell us they love our concept of teaching children to give as well as to receive. Some of them actually create special holiday programs where children can wrap presents for their moms, make a card and really feel proud of having a holiday gift to give to the special person in their lives.
Norris, who will appear on the TODAY Show on December 13th , pointed out that while PartyLite is a key individual donor to the gift drive, the company is also proud to be part of the Direct Selling Association's contribution. As a longstanding member of DSA, we're happy to join with others in our industry in supporting this very worthwhile cause, he said.
PartyLite, which is sold in 21 countries around the globe, is famous everywhere for its world-class fragrances. Among PartyLite products donated this year were fragranced candles, votive holders, reed diffusers, ScentGlow® warmers, fragranced oils, aroma melts, incense sets and even a charming stuffed animal – the Lavender Bunny Hop.
Kids love it, but it's really a great 'mom' gift, Norris explained. Pop the little bag of lavender into the microwave for a few seconds, insert it into a little pouch in the bunny's back, and place the bunny against the back of your neck – and you get lovely warmth and fragrance – and some great holiday stress relief. This season we have a lavender teddy bear, as well.
Asked why participating in the gift drive is important to PartyLite, Norris said, Our sales consultants who sell PartyLite products are women and men who are usually very involved with their families. So they respond strongly to this cause, as they do to our support in the United States for the American Cancer Society and in Canada for Children's Miracle Network. PartyLite is very community-minded, and contributing to these important causes brings special meaning to our work lives and helps to make this holiday season even brighter.
Blyth, Inc., headquartered in Greenwich, CT , USA , is a direct to consumer business focused on the direct selling and direct marketing channels. It designs and markets health & wellness products, candles and accessories for the home through the direct selling channel, utilizing both the network marketing and home party plan methods.
The Company also designs and markets health & wellness and beauty products, household convenience items and personalized gifts through the catalog/Internet channel. Its products are sold direct to the consumer under the ViSalus®, PartyLite® and Two Sisters Gourmet by PartyLite® brands and to consumers in the catalog/Internet channel under the Miles Kimball®, Walter Drake ®, Easy Comforts®, As We Change® and Exposures® brands.
PartyLite is the world's #1 party plan company selling candles, candle holders, flameless fragrance and wax warmers, as well as holiday and home decor available in 21 countries through nearly 45,000 top independent PartyLite business entrepreneurs. PartyLite ranks #31 in the Direct Selling News Global 100 revenue-generating direct selling companies. Based in Plymouth, Mass. ,
PartyLite is a member of the Direct Selling Association. In 2013, PartyLite is celebrating 40 years as the global leader in its category and 23 years as a member of the Blyth family of companies. Since 1997, the PartyLite U.S. family of independent Consultants, employees and customers has donated more than $14 million to the American Cancer Society's fight to eradicate cancer. The PartyLite Canada family has donated $3.7 million to Children's Miracle Network to help children in communities across Canada .