SAVI Health Launches In The USA
December 19, 2013
By Team Business For Home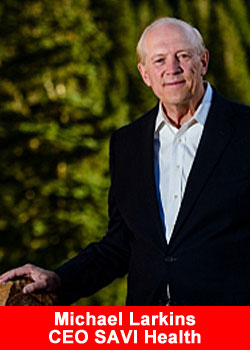 SAVI Health, a network marketing company founded by former executives of Franklin Quest, is now open for business and offers a way for people to intentionally build their best life.
"From our time at Franklin Quest coaching hundreds of thousands of people around the world, we saw first-hand that everyone has three core values in common: we all want good health, strong relationships, and financial well-being," explains Mike Larkins, President and CEO of SAVI Health.
"We started this company as a way to not only coach people on how to live in harmony with those values, but to actually provide a path and system that can move them forward. We know from first-hand experience that aiding people in these areas will help them build their best life."
The other founders of SAVI Health are Mark Brown, Craig Case, Greg Fullerton and Tony Wetzel. Fullerton was a founder of Franklin Quest and all have significant experience at that company. SAVI has also forged a partnership with Dave Blanchard, CEO of the Og Mandino Group.
By combining Blanchard's experience and knowledge with that of the founding team, SAVI will be uniquely equipped to offer personal development content and coaching personalized to meet individual needs and which helps them focus on what matters most to them, with strong relationships at the top of the list.
To support and foster good health, SAVI offers SAVI Vital™, an all-natural dietary supplement that delivers the exceptional anti-oxidant and cellular anti-inflammatory benefits of the Mediterranean diet. The main ingredient in SAVI Vital, Prodroxol™, is a patented formulation that includes hydroxytyrosol and other polyphenols from specially-processed olive juice.
This ingredient was developed by Dr. Roberto Crea, an original Scientific Director at Genentech and one of the geneticists who developed and patented human insulin. In clinical studies, this ingredient demonstrated anti-inflammatory, anti-oxidant, anti-microbial, and anti-allergenic properties, and improvement in cardiovascular health.
"Just this year, the New England Journal of Medicine published a clinical study involving more than 7,000 people in Spain. The study showed the Mediterranean diet reduced cardiovascular risk by 30% compared to a low-fat diet," Larkins said. "SAVI Vital is the easiest way to get these same benefits every day." As people join SAVI and open their own SAVI business, they can earn an income based on their effort. But that's only part of supporting financial well-being. SAVI will also help people develop sound financial habits so they can hold on to what they earn and get out of debt. It's all part of helping people build their best life.
About SAVI Health
SAVI Health is the creation of entrepreneurs who put values ahead of profit and who have made it their life mission to help others achieve more in health, relationships, and financial wellbeing. SAVI Health's mission is to help people intentionally build their best life and is guided in this effort by The SAVI Way, 16 principles that keep this mission at the forefront. For more information, please visit SAVI at www.savihealth.com.