USANA Named One Of Utahs Best Companies To Work For
December 14, 2013
By Tina Williams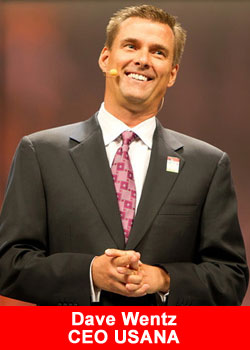 Who is one of Utah's Best Companies to Work For? USANA Health Sciences Inc., is according to Utah Business magazine. The global nutrition company was recognized today as one of the best employers in the state based on its unique and generous benefits, work-life balance and overall company culture. This marks the sixth time the company's made the list since 2002.
We are a company that provides opportunities of true health and true wealth for our Associates and preferred customers, as well as our employees, said USANA CEO Dave Wentz. Our goal is to provide our employees with the benefits and tools they need to excel in the workplace while still being able to maintain an excellent quality of life. To receive this title for a sixth straight year is an honor and an indication that the respect for our employees is mutual.
This year more than 30 Utah companies were recognized for encouraging their employees to successfully balance their personal and professional lives. Each company was selected by a rigorous two-part survey that evaluated company benefits and opportunities and management structure. The survey also examined feedback from each organization's employees, collected through an anonymous companywide survey.
This award is a testament of what USANA stands for, which is to improve the quality of life of each individual it reaches, said Michael King, executive director of human resources. USANA works tirelessly to create a unique and exciting work environment for its employees, and to offer competitive benefits to them and their families.
USANA has been recognized for its onsite workout facility, complimentary fitness classes, organic cafe, annual profit-sharing program and impressive health and life insurance packages both locally and nationally. In August, USANA was recognized by Outside magazine a fifth consecutive year, as one of the Best Places to Work For in the nation.
About USANA
Founded in 1992, USANA Health Sciences is a U.S.-based nutritional company that manufactures high-quality supplements, personal care and energy products in its FDA-registered facility in Salt Lake City.