USANA Probiotic Product Gets Seal Of Approval From ConsumerLab.com
December 10, 2013
By Tina Williams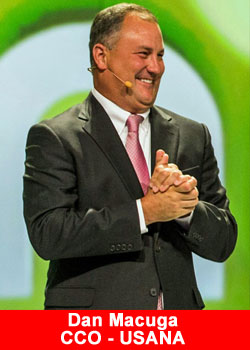 More proof from USANA Health Sciences Inc., that its labels match its products. Today the global nutritional company announced that one of its top-rated supplements, newly upgrade dairy and sugar-free USANA Probiotic, has been evaluated and approved by ConsumerLab.com LLC, a company that independently tests health products for purity, disintegration and strength to help consumers and health care professionals identify the best quality health and nutrition products. ConsumerLab.com has also approved USANAEssentials, Body Rox, Usanimals, and CoQuinone and CoQuinone 30 supplements.
Ninety percent of USANA's products are manufactured in-house, in an FDA registered facility, under pharmaceutical Good Manufacturing Practices, said Dr. John Cuomo, USANA executive director of product development and technology. Every batch of every product is tested for each ingredient to make sure that what is on the label is truly in the product.
Known for keeping health and nutritional companies honest about their product claims, ConsumerLab.com has tested more than 3,400 products since 1999 and freely publishes its testing methods for public review.
It's an honor to receive product certification by a reputable third-party organization such as ConsumerLab.com, said Dan Macuga, USANA's chief communications officer. It demonstrates our resilient commitment to producing effective and reliable products for consumers.
USANA was recently named the No. 1 Rated Brand in Direct Sales Based on Customer Satisfaction from ConsumerLab.com's 2013 Survey of vitamin and supplement users.
In addition to earning ConsumerLab.com's seal of approval for multiple supplements, USANA has three different NSF Certifications. The manufacturing facility in Salt Lake City is NSF certified to follow the Federal Drug Administration guidelines for Good Manufacturing Practices. Additionally, USANA has obtained Certification of Label claims on six core products, and several products are Certified for Sport, meaning its products do not contain banned substances. Most recently the company obtained the FDA's Drug Establishment Registration, which allows USANA to manufacture over-the-counter drugs.
About USANA
Founded in 1992, USANA Health Sciences is a U.S.-based nutritional company that manufactures high-quality supplements, personal care and energy products in its FDA-registered facility in Salt Lake City.