$500,000 Ring Earner, Darnell Self, Joins Legal Shield Corporate
January 4, 2014
By Tina Williams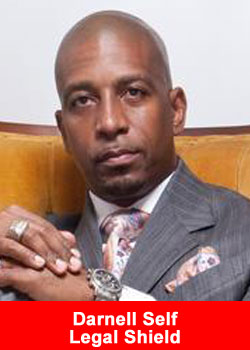 Rip Mason, CEO, sent an email out January 2nd announcing that top earner, Darnell Self, has moved into the corporate position of Legal Shield (formerly Pre-Paid Legal). The email states:
It gives me great pleasure to announce that Darnell Self will be joining the LegalShield corporate family effective January 1st. Darnell will retain the title of Principal Network Advisor and oversee Network Marketing activities across the US and Canada. Darnell brings a strong tradition of excellence, exceptionally field success and a gift of leadership that will benefit more than 300,000 LegalShield Associates for many years to come. Please join me in wishing Darnell and Traci Self and their entire family best wishes and success in 2014 and beyond.
Mr. Self, along with his wife Traci, has cultivated an empire within his industry that is being studied and observed by others seeking to emulate their systematic approach of team and consummation. His team is called Team NuVision, descriptive of the clarity of purpose he believes one derives when money is removed as an issue of concern.
In over a decade, the success system implemented by Team NuVision has produced forty-two six figure income earners who all work from home and an immeasurable number of associates to match and exceed their fulltime income. Under Mr. Self's leadership and guidance, Team Nuvision has changed the legacies of hundreds of thousands of families nationwide. His personal achievements and notoriety are only a byproduct of his exemplary practice of the principles of, above all, maintaining your faith, followed by fortifying your family and then generating financial independence.
This unparalleled record of achievement has garnered the Bowie State University alumnus recognition on major television networks such as FOX, BET and TBN. Additionally, Mr. Self has been highlighted in global publications including Inspire, Work From Home, Success From Home, Cutting Edge Media, Home Business Connection, and Your Business From Home magazines.
It is impossible to speak of Darnell without mentioning his wife and true life partner, Traci. Although he is usually in the forefront, all who know them are aware that he is uncompromisingly under-girded by his help mate.
His generosity with his time and resources is substantiated by his charitable contribution record. A major contribution of Mr. Self's time and talents is his and creator, Mike Humes', nonprofit Fertile Ground. Fertile Ground was established to allow others to experience the power of giving. Fertile Ground has assisted in the Haiti relief, clothed thousands of persons during the winter season and volunteered time and resources to shelters. He and his business partners supplied entire villages in Haiti and the Dominican Republic with essentials such as food and clothing. His personal donations to charities and ministries are insurmountable.
With as many years before him as behind him, there is no plausible speculation of the ultimate impact Mr. Self will have on our society. He is truly a gifted individual with the ability to expose others to knowledge beyond their environment, to develop a legacy of leadership, to empower others to acquire economic and time freedom, to strengthen the substance of proven success systems and to activate an atmosphere of ascending achievement. Darnell Self is the quintessential visionary.