Avon Appoints Nilesh Patel As Senior Vice President And President, Asia Pacific Region
January 12, 2014
By Tina Williams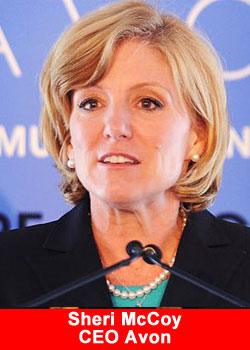 Avon announced today the appointment of Nilesh Patel as Senior Vice President and President, Asia Pacific Region, effective February 3, 2014. Mr. Patel will report to Sheri McCoy, Avon's Chief Executive Officer, and will join the company's Executive Committee.
Mr. Patel will oversee all of Avon's Asia Pacific business. In this role, he will be responsible for stabilizing the market, and strengthening and growing the Avon business throughout the region.
As part of our commitment to growing the Avon business, I am pleased to announce that Nilesh Patel is joining us to lead our efforts in the Asia Pacific region, said McCoy. During his successful career, Nilesh has a strong track record of strategic and operational excellence, which will be critical as we work to rebuild our Asia Pacific business. He knows how to build a brand and bring together a strong team to drive results. Nilesh's experience, expertise and insights are critical assets as we work to strengthen our position in the Asia Pacific region and globally.
Mr. Patel joins Avon following a 26-year career with the Heinz Company, where he served in various roles. Throughout his tenure, he acquired deep experience across multiple functions from supply chain management to marketing, and built a solid record of success, most notably in emerging Asian markets such as Indonesia and India.
Most recently, Mr. Patel served as President, Director and Regional CEO of the Heinz ASEAN Region, where he oversaw business in Indonesia, Malaysia, Singapore, the Philippines, Vietnam and Thailand. The position was an expansion of his role as head of Heinz ABC Business in Indonesia, where Mr. Patel has been credited with turning around the business and more than doubling revenues over a five-year period.
From 2004 to 2007, Mr. Patel served as Managing Director and Chairman of the Board of Directors for Heinz India, where he spearheaded a brand repositioning, organizational restructuring, and other changes resulting in a near doubling of revenues. Other roles at Heinz include Senior Manager/Director of Supply Chain and Foodservice Sales in China and Manager/Senior Manager in various roles for the Middle-East/Africa and Europe regions.
Prior to joining Heinz, Mr. Patel was a Project Development Engineer for Grand Metropolitan in the food retailer's Research and Development department. He spent his early professional career at a pharmaceutical company.
Mr. Patel holds a Bachelor's degree in Chemical Engineering from the University of Glamorgan in South Wales (now the University of South Wales).
About Avon
Avon, the company for women, is a leading global beauty company, with nearly $11 billion in annual revenue. As one of the world's largest direct sellers, Avon is sold through more than 6 million active independent Avon Sales Representatives. Avon products are available in over 100 countries, and the product line includes color cosmetics, skincare, fragrance, fashion and home products, featuring such well-recognized brand names as Avon Color, ANEW, Skin-So-Soft, Advance Techniques, and mark.