Nearly 200 USANA-Sponsored Athletes Heading To Russia
January 29, 2014
By Tina Williams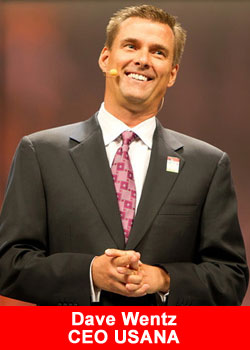 With the official selections contenders now decided, USANA Health Sciences, Inc congratulates nearly 200 of its sponsored athletes on their recent nominations as they prepare to compete in Russia next week. Athletes reigning from 11 different organizations and four countries will represent the global company in 11 separate sports, including the inaugural women's ski jumping event.
We are proud to support these inspirational individuals and organizations and know that they will represent USANA and their respective teams and countries with a sense of dignity, as they compete for top honors, said USANA Chief Communications Officer Dan Macuga. We wish them all the best and look forward to watching them secure their places in history at these Games.
With the addition of 12 brand new events, including the luge team relay and slopestyle skiing and snowboarding events, the 2014 Games will be the biggest global competition to date. A total of 98 medal events will be held in February, with Team USANA eligible for 82 of them.
Former Game participants and current USANA brand ambassadors, Meaghan Mikkelson-Reid (Canada), Billy Demong (United States) and Taylor Fletcher (United States) will head overseas alongside fellow Team USANA influencers, Bryan Fletcher (United States) and reigning world champion ski jumper Sarah Hendrickson (United States), who will make their official debuts.
When I got injured last August, I thought that everything was over, that sponsors were going to drop me and that my dreams of becoming an Olympian this year were over, Hendrickson said. But with the support of USANA and all of my other sponsors, medical team and family, I've been able to not only return to jumping, but make the first U.S. women's ski jumping team, and I can't wait to represent my country and Team USANA at the Games!
Other USANA-sponsored athletes competing this February include members of:
United States Ski and Snowboard Association

U.S. Speedskating

U.S. Women's Ski Jumping

USA Luge

Speed Skating Canada

Biathlon Canada

Cross Country Canada

Great Britain Short Track Speed Skating

South Korea Speed Skating

Women's Canada Hockey

Men's U.S. Hockey
USANA continues to proudly provide NSF and HFL-tested nutritional products to more than 600 professional athletes worldwide, that USANA insures with a million-dollar Athelete Guarantee.
*The mentioned athletes are either distributors or dedicated users who have received compensation for their partnership and/or complimentary USANA products.
About USANA
Founded in 1992, USANA Health Sciences is a U.S.-based nutritional company that manufactures high-quality supplements, personal care and energy products in its FDA-registered facility in Salt Lake City.