Primerica Announces Leadership Meeting and $5.21B In ISP Sales
January 7, 2014
By Tina Williams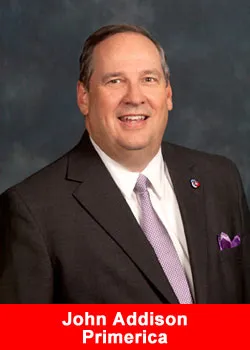 Primerica, Inc., the largest independent financial services marketing company in North America, announced that today it is hosting representatives from across the United States and Canada for a Senior Leadership Meeting in Atlanta. In addition to announcing sales force initiatives for 2014, the representatives will celebrate 2013 successes, including the highest ever Investment and Savings Products (ISP) sales in a single year of $5.21 billion in 2013, with an estimated $1.28 billion in the fourth quarter of 2013.
John Addison, Chairman of Primerica Distribution and Co-Chief Executive Officer said, "2013 was an historic year for our company. We moved into our new state of the art headquarters, held our biennial convention as well as rolled out new products and incentives to our sales force. I am proud of the leadership provided by these representatives and their record-breaking performance."
Earnings Webcast Information
Primerica will hold a webcast Tuesday, February 11, 2014 at 9:00 am ET, to discuss fourth quarter results.
A replay of the call will be available for approximately 30 days on Primerica's website
About Primerica, Inc.
Primerica, Inc., headquartered in Duluth, GA, is a leading distributor of financial products to middle income households in North America. Primerica representatives educate their Main Street clients about how to better prepare for a more secure financial future by assessing their needs and providing appropriate solutions through term life insurance, which we underwrite, and mutual funds, annuities and other financial products, which we distribute primarily on behalf of third parties. In addition, Primerica provides an entrepreneurial full or part-time business opportunity for individuals seeking to earn income by distributing the company's financial products. We insured more than 4 million lives and have over 2 million client investment accounts at December 31, 2012. Primerica stock is included in the S&P MidCap 400 and the Russell 2000 stock indices and is traded on The New York Stock Exchange under the symbol "PRI".