Star Ambassadors Mike and Miranda Raivala Join Nerium
January 21, 2014
By Team Business For Home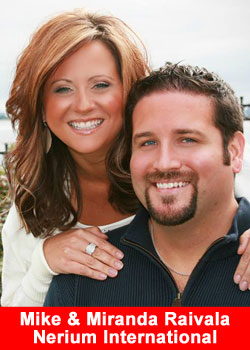 1 Star Ambassadors resign from Visalus to join Nerium International.
Mike and Miranda Raivala have made the decision to make a run with Nerium International.
Miranda was a hairstylist who is now able to be a stay at home mom to two boys and work their Nerium business full time.
Mike is a successful Realtor ranking as one of the top realtor teams in the state of Wisconsin. Discovering Nerium has made this a no brainer.
Why Nerium? Easy, the product. says Mike. This product does what it says it will. It delivers real results and everyday the testimonies continue to blow our minds. We love what it has done for us personally.
Besides the product, the culture is classy, real and very welcoming. says Miranda. There is something quite powerful about a company being one big team with a family feel. That is very important to us. The desire to be part of a team that simply wants to see everyone achieve their goals is refreshing.
Nerium is everything the Raivala's were looking for. Miranda adds, The overwhelming support we have received here is like nothing we have ever experienced.
This is a wonderful opportunity and we cannot wait to help others reach the success they dream of. We are so very excited and thankful to have found Nerium. It has helped us dream again and we know Nerium is home. We found the new challenge we were looking for, are you looking for yours? If you are looking for a final home, contact us today!