Africa's Top Network Marketer – Anthony Massawa, Joins Jeunesse Global
February 24, 2014
By Team Business For Home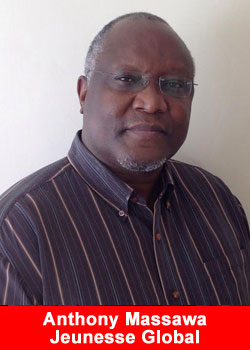 Africa's Anthony Massawa is regarded as one of the continent's top network marketers having remained at the top for more than fifteen years and in several different companies.
Anthony announced recently that he has joined Jeunesse Global, becoming one of their first leaders in Africa, and helping to launch this new and thriving business opportunity on this continent.
Anthony has amassed a collective downline of over 800,000 distributors in his career which first started back in in 1996.
Since that time Anthony has risen to the top in several great companies including Tiens—where he earned a car, villa, yacht and plane; Sunrider—where he was Best Performer of the Year several times; and Swissgarde—where he was Distributor of the Year-Africa several times and where he achieved the level of Five Star Distributor in an all-time record time of six weeks.
Having worked many years in senior positions in a number of multinational organisations, Anthony has helped open African markets in the past, from Sudan to Angola, and even over to Madagascar and Mauritius. He has personally pioneered launches in Tanzania, Uganda, Rwanda, Malawi, Mauritius, Sudan and the Congos.
We are extremely honoured to have Anthony join us as a pioneer for Jeunesse Global in Africa. Anthony has proven himself time and time again to be an outstanding leader in this industry and market, and we are confident he will take Jeunesse to great heights—even to become one of the leading direct selling companies in all of Africa says Christopher Cooper, Jeunesse Global General Manager for Africa.
Jeunesse Global started in September 2009, and in less than five years Jeunesse is now operating in over 92 different countries, has paid out over $150 million dollars in commissions, with annual sales growth over 125%, monthly sales of US$33 Million, and 28,000 new distributors joining monthly (December 2013).