Avon Bets Hispanics, Smaller Selection, Price Hikes Can Fix U.S. Sales
February 23, 2014
By Tina Williams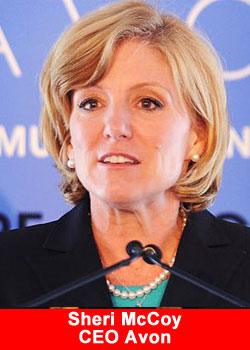 Avon Products Inc hopes higher prices, a growing Hispanic market and smaller selection of beauty products will help it reverse years of declines in U.S. sales, top executives said on Thursday.
The company's North American sales have fallen by half since 2007, and last year, the size of its army of Avon Ladies sales representatives, shrank 15 percent.
Yet the world's largest direct-selling cosmetics company, part of U.S. popular culture for its Ding Dong, Avon Calling advertisements, insists it can fix the business.
That's our No. 1 priority, Avon Chief Executive Sheri McCoy told analysts at the Consumer Analyst Group of New York meeting in Boca Raton, Florida, where her team laid out in the most detail yet how Avon plans to return to growth in its home market, despite short-term risk to sales.
Avon's senior vice president for North America, Pablo Munoz, put the growing U.S. Hispanic population at the center of the company's plan, saying Hispanic sales representatives are incredibly committed to the Avon brand.
The 10 top highest-grossest districts in the United States out of 850 for Avon are primarily Hispanic, Munoz said at CAGNY. So Avon is planning more marketing aimed specifically at Hispanics and dedicating fewer resources on other districts.
Avon's North American business has been unprofitable for the last three years and Munoz said reducing costs is paramount to Avon reaching its goal of returning to profit in 2015.
A smaller assortment of Avon products will help lower production and printing costs. A more focused assortment will also help sales representatives because they will have fewer products to learn how to demonstrate, Munoz said.
Perhaps the most delicate step for Avon is raising prices, which Munoz said had remained largely unchanged for five years, in part to keep with rising costs but also so more money ends up in the pockets of sales representatives.
It's very clear if we continue on the path we are on, that earning opportunity will continue to be reduced, Munoz said.
While one analyst said the steps Avon is taking make sense, he doubted they would be enough to stem the hemorrhage in North America, which now accounts for less than 15 percent of its global revenue.
It's gotten smaller and smaller as a business for a very long time with no end in sight, said Ali Dibadj, an analyst with Sanford C. Bernstein & Co. Our view about the U.S. is they need to do something very dramatic – getting rid of it is a potential step.