Herbalife To Make Presentation To Lawmakers
February 26, 2014
By Tina Williams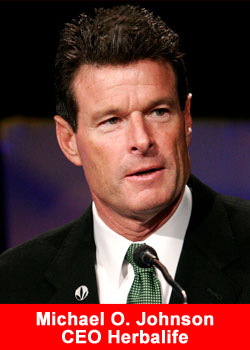 Herbalife the nutritional supplements company, will conduct a briefing on Friday to educate congressional staff members about its business in what appears to be an effort to ramp up its lobbying efforts in Washington.
The company, which has come under attack by the hedge fund billionaire William A. Ackman, has invited the staff members to ask questions and learn more about its multilevel marketing business during a session it is calling "Direct Selling: An American Tradition."
The meeting comes as lobbying efforts by both Mr. Ackman and Herbalife to shape public perception have heated up in what has become a political showdown in the nation's capital. Mr. Ackman has been increasingly vocal about his view that Herbalife is a pyramid scheme that survives by preying on masses of sales representatives who buy Herbalife products they cannot resell. Herbalife denies the contentions and has spent millions of dollars on lobbying efforts to defend its reputation.
The meeting on Friday appears to be the latest effort influence Congress by one of Herbalife's hired lobbyists, the Raben Group, which confirmed the invitation.
Senior executives including John DeSimone, the chief financial officer, and Ibi Fleming, vice president and managing director of Herbalife North America, will conduct the briefing, according to a copy of the invitation reviewed by DealBook.
"We are proud of our company and the positive contributions we help to make in the lives of our eight million customers each day," Herbalife said in a statement. "We look forward to educating congressional staffers about the important economic impact of the direct selling industry and our company, and answering their questions."
In late 2012, Mr. Ackman told an audience at a charity event in Manhattan that he had wagered $1 billion that Herbalife's share price would eventually be worth nothing. But since then the shares have gained more than 48 percent, putting Mr. Ackman's short position against the company in the red.
This week, Herbalife posted fourth-quarter results that slightly beat Wall Street expectations. On a conference call with analysts, the company lowered its forecast for 2014 sales growth but raised its estimates for earnings.
On Thursday, Herbalife's chief executive, Michael O. Johnson, fired a missive at Senator Edward J. Markey, Democrat of Massachusetts, who recently waded into the battle by sending letters to the Federal Trade Commission and the Securities Exchange Commission urging them to investigate Herbalife.
Senator Markey also sent a letter to Mr. Johnson, asking him to provide specific data on Herbalife's customer base and the success rate for those who sell its products.
In his reply on Thursday, Mr. Johnson gave few detailed responses to Senator Markey's queries but affirmed that Herbalife provided "high-quality, science-based products." He wrote that the company's multilevel marketing business model was just as valid just as those of Avon and Amway, which are similar.
"Herbalife's compensation is driven by product sales, not recruitment," Mr. Johnson wrote.
Citing a survey by the research company Lieberman Research Worldwide, Mr. Johnson wrote that "87 percent of former Herbalife members who have no continuing relationship with the company would recommend Herbalife products."
Mr. Ackman has argued that the company recruits low-income minorities by selling a story of riches to be made. But these sales representatives end up with piles of debt rather than cash, he contends. Representatives are then urged to recruit new representatives and are offered a cut of the profits from new recruits.