Hitomi Shinzato Shines Bright As A Talk Fusion Diamond Elite Associate
February 26, 2014
By Team Business For Home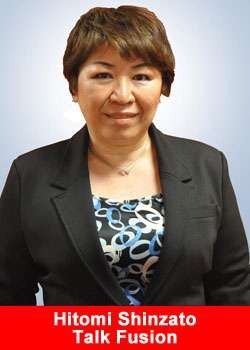 Talk Fusion Diamond Elite Hitomi Shinzato of Tokyo, Japan has always lived a life of service.
For 13 years, Hitomi worked as a schoolteacher. Eventually, however, she was faced with the fact that her job, while rewarding, would never give her financial security or allow her to contribute on a greater level.
She left her job and moved to Tokyo in search of her dream, but the journey was a difficult one.
"When I came to the city, nothing I was doing was working," she says. "I lost everything, I was about to give up.
Then my prayers were answered with Talk Fusion in October of 2011."
Hitomi had made many acquaintances online through social networks. One of her new Facebook friends, Talk Fusion Blue Diamond Desire Nongol, suggested that she attend one of the company's online Business Opportunity Presentations to see the potential of Talk Fusion. She did, and immediately realized it was exactly what she had been looking for.
"All of the Associates were honest people, and it was an international business," says Hitomi. "And Talk Fusion has Instant Pay!"
She committed herself to sharing the Talk Fusion Products & Opportunity in Japan and abroad, and climbed the ranks to achieve the lofty distinction of Diamond Elite in less than a single year. Hitomi's life changed completely, going from the edge of financial disaster to global success and a lifestyle that allows her to help others do the same. Talk Fusion has also helped her realize her dream of being able to give back in ways she never could have before.
"I have been able to travel to Fukushima, where the terrible earthquake happened in 2011, to donate money and give hope to the victims," she says. "My aim is to help many more people around the world escape poverty, and Talk Fusion has enabled me to make that happen."
"My life has changed completely, and so havethe lives of my family and friends, as well as many others in my country and around the world."
Any earnings portrayed in any Talk Fusion marketing materials are not necessarily representative of the income, if any, that a Talk Fusion Associate can or will earn through his or her participation in the Talk Fusion Compensation Plan. All references to income, implied or stated, throughout the Talk Fusion Compensation Plan are for illustrative purposes only. These figures should not be considered as guarantees or projections of your actual earnings or profits. Talk Fusion does NOT guarantee any level of income or earnings to any Associate; any representation or guarantee of earnings would be misleading.