MonaVie Open In 40 Markets Worldwide
February 26, 2014
By Team Business For Home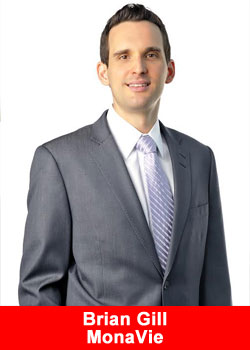 Brian Gill is VP of Marketing Communications.
He has been working in the direct selling industry for more than 14 years, having previously worked as a distributor for two direct selling companies and then on the corporate marketing side for five different direct selling companies.
His role at MonaVie as vice president of communication is to get information out to distributors and customers via MonaVie's communication channels, and to encourage them to keep the conversations going and the news flowing on their own communication and social networks.
Brian joined MonaVie in 2006 and was one of the company's first 20 employees. He received his B.A. in International Relations from Brigham Young University, an M.A. in English from Utah State University, and a professional certification in Integrated Marketing Communication from the University of Utah. Brian loves to read, hike with his family, and play racquetball and squash.
Brian says:
"The world is your oyster." Definition: You are in a position to take the opportunities that life has to offer.
I couldn't help but think that the world of MonaVie is now—more than ever before—your oyster…that a global opportunity is literally at your feet, waiting to be tapped.
After earning a bachelor's degree in International Relations (with an Asian Studies emphasis) from Brigham Young University (Provo, Utah), where one of the unofficial school mottos is "The World Is Our Campus," I was excited at my career prospects. I truly believed the world was to be my oyster. And it was!
I've had the opportunity to travel to more than a few countries throughout my career. The personal and professional growth opportunities from traveling abroad and establishing contacts in other locations have proven nothing short of life-enriching.
So, what's the big news?
Well, as the one who sends out MonaVie corporate's press releases, I remember that for the longest time we announced in our boiler plate that we are "open in 24 markets worldwide." And, now, with our recent EuroConnect announcement, we can proudly say that "MonaVie products are marketed and sold in 40 countries around the world."

MonaVie's 40 Markets (new EuroConnect markets shown in bold)
Australia

Austria

Brazil

Bulgaria

Canada

Croatia
Cyprus
Czech
Denmark
Estonia
Finland

France

Germany

Hong Kong

Hungary

Ireland

Israel

Japan

Korea

Latvia
Lithuania

Malaysia

Malta

Mexico

Monaco

New Zealand

Peru

Poland

Portugal

Puerto Rico

Romania

Russia

Singapore

Slovakia
Slovenia
Spain

Taiwan

Thailand

United Kingdom

United States
I marvel when I think of how many Sochi Olympic medals were earned by these great countries combined!
Don't see your favorite country in our list yet? Hang in there! We're planning two key market openings in the near future. Stay tuned for details, as we'll be communicating information as it becomes available.